Number of Black-Owned Commercial TV Stations Goes from 18 to 0 in 7 Years
Tuesday, December 31, 2013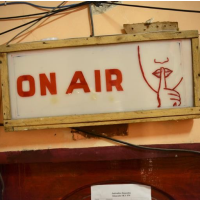 (AFP Photo)
When President Barack Obama became the first black president, African-Americans owned few commercial television stations in the United States. Obama pledged to encourage more diversity in broadcast media ownership. And yet, the state of African-American ownership of TV stations has reached a dramatic nadir during his administration.
Two years before Obama was first elected to the White House, there were only 18 full-power TV stations owned by African-Americans. This total represented just 1.3% of all such stations in the country.
By the end of his first term in office, those 18 had declined to only five stations. And as of this month, the number has fallen all the way to zero.
"This sorry state of affairs is the culmination of a trend that started in the late 1990s when Congress and the Federal Communications Commission [FCC] allowed massive consolidation in the broadcasting industry," Joseph Torres and S. Derek Turner wrote for New America Media.
"This policy shift crowded out existing owners of color and ensured that it would be nearly impossible for new owners to access the public airwaves. Recent FCC actions (and in some cases, inaction) have only hastened this decline in opportunities for diverse broadcasters," they added.
The last holdout among black-owned stations was Roberts Broadcasting, which went bankrupt two years ago with $3 million in debt. It announced several weeks ago that it was selling its three remaining full-power TV stations to ION Media Networks for nearly $8 million.
The end of the UPN network, which focused its programming on African-American audiences, really hurt Roberts. Its stations had been UPN affiliates until the network's collapse.
Prior to Roberts' fall, some of the other remaining black-owned stations included a Fox affiliate in Portland, Maine, owned by funk musician Charles Glover, who sold the station to the Sinclair Broadcast Group in October.
The second-to-last holdout was WMGM in Atlantic City, New Jersey, whose parent company, Access.1 Communications, sold the station to Locus Point Networks, which planned to close it down.
-Noel Brinkerhoff
To Learn More:
Number of Black-Owned TV Stations Plummets to Zero (by Joseph Torres and S. Derek Turner, New America Media)
Roberts' TV Stations to be Sold (by Lisa Brown, St. Louis Post-Dispatch)