New York City Police and City Lawyers Accused of Destroying Evidence in Case Involving Fake Summonses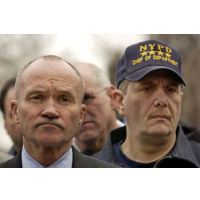 Raymond Kelly and Joseph Esposito (AP photo)
An investigation into an illegal quota system that caused New York police officers to issue hundreds of thousands of bogus summonses has been held up because the department has destroyed the evidence, according to a plaintiff's attorney.
The complaint filed against the city says police and legal officials engaged in a "stunning pattern" of evidence destruction, presumably to cover up the issuing of 850,000 bogus summonses resulting from the NYPD's quota system.
Elinor Sutton, who is an attorney for the plaintiffs, has said the city's legal department has failed to produce a single email from the files of former Police Commissioner Raymond Kelly or former Chief of Department Joseph Esposito regarding summons activity over the last eight years. "It is simply not tenable that Commissioner Kelly and Chief Esposito did not — in the entire period of 2007 through the present — write or receive emails using terms" related to the word "summons," Sutton wrote in court documents.
Sutton produced copies of text messages from police officers indicating the existence of the quota system for summons. But the NYPD couldn't produce its own copies of these texts, proving that records were destroyed, the plaintiffs' lawyer says.
"The spoliation of this evidence clearly demonstrates Defendants' bad-faith, grossly negligent, or at least, negligent destruction of relevant documents," Sutton wrote.
One such text read: "We missed seat belt number by 30 last week unacceptable. if need be u guys will go with me 2 traffic stat 2 explain why u missed," according to the New York Daily News.
Sutton also said the NYPD had shredded hard copies of documents from meetings in which crime statistics were discussed.
The class includes anyone who has been issued a criminal court summons beginning in May 2007 that was thrown out because it was legally insufficient, according to the Daily News. A report (pdf) from John Jay College found that 65% of summonses issued by the NYPD from 2003 through 2013 were dismissed (41%) or found to be defective or legally insufficient (24%).
-Noel Brinkerhoff, Steve Straehley
To Learn More:
NYPD Accused Of Destroying Evidence Showing Cops Issued Bogus Summonses To Meet Quota (by Stephen Rex Brown, New York Daily News)
Ray Kelly & NYPD Brass Allegedly Destroyed Evidence Of Quotas (by Christopher Robbins, The Gothamist)
The Summons Report (Misdemeanor Justice Project) (pdf)
Sharif Stinson v. City of New York (Google Scholar)