Navy Accused of Endangering Health of Nearby Civilians with Excess Noise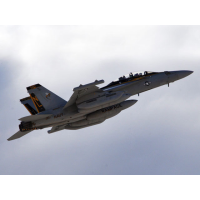 EA-18G Growler on approach to Whidbey Island (photo: Paul Farley, U.S. Navy)
Residents in rural Washington State are taking the U.S. Navy to court to stop it from using a nearby landing strip for EA-18 warplanes, which produce an unhealthy level of noise pollution, they say.
About 80 EA-18G Growlers are stationed at Naval Airbase Whidbey Island, about 2½ hours north of Seattle. The Navy also uses an airstrip near Coupeville for Growler operations. The planes regularly fly low over the community, producing a loud noise.
Truthout reported that the EA-18s have been recorded producing noise at 130 decibels outside and 81 decibels inside homes. A vacuum cleaner is 70 decibels, heavy truck traffic is about 80 decibels, a chainsaw is 90 decibels, and being within approximately 100 feet of a jet engine is 140 decibels. "Exposure to 140 decibels may cause immediate and permanent hearing damage or loss, as well as bleeding from the ears," Dahr Jamail wrote at Truthout. Jamail added "the human health impacts from these levels of chronic jet noise include hearing loss, immune toxicity, insomnia, stroke, heart attacks and even death."
Citizens Of Ebey's Reserve (COER) is campaigning to get the Navy to stop using the airstrip near Coupeville and to remove the planes, which have been at Whidbey Island since 2008, from North Puget Sound. A lawsuit first filed in 2013 with a Seattle federal court has been revived that seeks an injunction that would halt flights out of Coupeville.
-Noel Brinkerhoff
To Learn More:
Sounds of War: Navy Warplanes Producing Deadly Noise Around U.S. Bases (by Dahr Jamail, Truthout)
Whidbey Citizens Group In Court Over Navy Growlers Noise (by Hal Bernton, Seattle Times)