NAACP Ends 15-Year Economic Boycott of South Carolina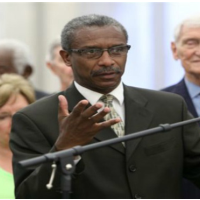 NAACP president Lonnie Randolph holds news conference after S. Carolina Senate voted to remove flag (photo: Tracy Glantz, The State via AP)
With the South Carolina Legislature's decision to remove the Confederate flag from the capitol grounds, the NAACP has decided to end its 15-year economic boycott of the state.
The NAACP's national Board of Directors voted last weekend to cease the boycott, which had, 15 years ago, come in response to the state government's display of the flag long associated with slavery and racism.
The legislature first approved the placing of the flag on the statehouse dome in 1961. The decision coincided with the centennial of the Civil War, but others saw it as a political statement opposing the civil rights movement of the time.
In 2000, the NAACP voted to implement a boycott of the state to raise awareness of the flag still flying above the capitol building. Lawmakers eventually decided to move the Confederate symbol from the statehouse dome to a nearby monument honoring Confederate war dead on the capitol grounds.
The NAACP insisted on maintaining the boycott until the flag was removed entirely from the capitol grounds. It was finally brought down on July 10, a day after state Governor Nikki Haley signed a measure ordering its removal.
During its annual convention in Philadelphia on Saturday—the day after the flag came down—the organization's board adopted a resolution ending the boycott.
The controversy over the flag arose after the killing last month of nine African Americans at Emanuel African Methodist Episcopal church in Charleston. The man charged in the slayings, Dylan Roof, an avowed white supremacist, had posed in photos with the flag prior to the attack.
-Noel Brinkerhoff
To Learn More:
NAACP Votes at Philadelphia Convention to End Boycott of S.C. over Confederate Flag (by Jon Herskovitz, Philly Voice)
South Carolina's Confederate Flag Is Gone, But Others Remain (by Kathleen Foody, Jeffrey Collins and Meg Kinnard, Associated Press)
The Complicated Political History of the Confederate Flag (by Jessica Taylor, National Public Radio)