Most U.S. Agencies Fail to Conduct Required Reviews of Federal Regulations
Tuesday, November 10, 2015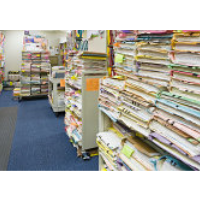 (photo: Getty Images)
Federal agencies are great at developing thousands of new regulations every year, but do a lousy job of figuring out how well they work after being implemented, according to a new study (pdf).
The Regulatory Studies Center at George Washington University says the federal government produces from 2,500 to 4,500 new regulations each year. Few if any, however, are revisited by their adopting agency to determine if they're working as intended, researchers say.
"While agencies often provide a wealth of information on the anticipated effects of their rules, they seldom return to a rule to evaluate whether the benefits and costs they anticipated actually materialized," the Regulatory Studies Center found.
President Barack Obama issued several executive orders beginning in 2011 instructing agencies to perform retrospective analyses of rules "that may be outmoded, ineffective, insufficient, or excessively burdensome, and to modify, streamline, expand, or repeal them in accordance with what has been learned."
But after looking at 22 economically significant rules—meaning they had an effect of $100 million or more on productivity, jobs, competition, the environment, public health and safety or local governments—proposed in 2014, researchers discovered few agencies had plans to measure the effectiveness of the regulations, which ranged from enhanced tank car standards for high hazard flammable trains to minimum wages for federal contractors, according to The Washington Post.
"Of the 22 rules we examined, not a single one included a plan for review," senior policy analyst Sofie E. Miller said.
"While many agencies successfully identified a problem that their regulation was intended to address," she wrote, "in many cases the problem identified was not related to the rules the agency proposed."
-Noel Brinkerhoff
To Learn More:
Obama Wants Regulations to be Effective, But Agencies are Ignoring his Orders, Study Finds (by Lisa Rein, Washington Post)
Learning from Experience: Retrospective Review of Regulations in 2014 (by Sofie E. Miller, George Washington University) (pdf)
Number of New Government Regulations Slows under Obama (by Noel Brinkerhoff, AllGov)
House Republicans Push Bill to Stop Most Regulations (by Noel Brinkerhoff and David Wallechinsky, AllGov)