Montana Oil Spill Contaminated Drinking Water, Renewing Concern over Keystone XL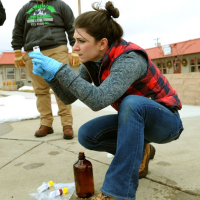 EPA contractor checks water sample in Glendive, Montana (photo: Larry Mayer, AP)
An oil spill into Montana's Yellowstone River last weekend has raised concerns about the development of the Keystone XL pipeline and its potential impact on the environment.
About 40,000 gallons of oil leaked into the Yellowstone on Saturday from the Poplar Pipeline, which was built in the 1950s and is owned by Bridger Pipeline. The spill contaminated the drinking water supplies for residents of Glendive, who normal use water from the river but now must rely on bottled water shipments.
The accident was the second in four years involving oil being dumped into the Yellowstone. A different pipeline, owned by ExxonMobil, leaked 63,000 gallons of oil into the river in 2011 near Billings.
The latest mess generated more concern among opponents of the Keystone project who say the recent accidents demonstrate how dangerous the pipeline could be for the environment. Under its proposed route, Keystone would cross the Yellowstone about 20 miles upstream from the Poplar Pipeline spill.
Senator Jon Tester (D-Montana), who supports Keystone, said it was important for the federal government to have more inspectors checking oil pipelines across the country. "We need to take a look at some of these pipelines that have been in the ground for half a century and say, 'Are they still doing a good job?'" Tester told the Associated Press.
The U.S. Department of Transportation's Office of Pipeline Safety has only 150 inspectors responsible for checking 2.6 million miles of gas, oil and other pipelines.
-Noel Brinkerhoff
To Learn More:
Oil Spill into Montana's Yellowstone River Renews Worries over Pipeline Safety (by Matthew Brown, Associated Press)
Traces of Montana Oil Spill Are Found in Drinking Water (by Eric Killelea and Jack Healy, New York Times)
50,000 Gallons Of Crude Oil Spills Into Partially Frozen Yellowstone River (by Ryan Koronowski, ThinkProgress)
Canadian Energy Company Bullies Nebraska Residents over Pipeline Right-of-Way (by Noel Brinkerhoff, AllGov)
Understaffed Agency Regulating Pipelines Depends on Oil Industry to Regulate Itself (by Noel Brinkerhoff and David Wallechinsky, AllGov)
Montana Gov. Says ExxonMobil Claim of Limited Spill Damage Is "Pretty Silly" (by Noel Brinkerhoff and Ken Broder, AllGov)