Military-Style Assault Rifles and Small, Concealable Handguns Now Drive U.S. Consumer Gun Sales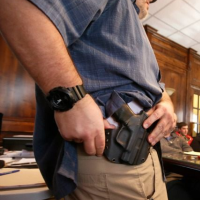 (photo: Getty Images)
By Barry Meier and Michael J. De La Merced, New York Times
At one time, military-style assault rifles like the ones used at a nightclub in Orlando, Florida, and in other mass shootings represented a relatively small segment of sales for gun manufacturers.
But in recent decades, such guns serve as one of the two financial pillars of the firearms industry, along with smaller handguns that are designed to be concealed, which have been the biggest driver of sales.
Together, the popularity of the assault rifles and small handguns highlight how the industry has changed in recent decades, as people have increasingly turned to guns for self-defense and less for hunting.
"The younger generations have fewer hunters," said Thomas W. Smith, the director of the General Social Survey, an annual survey conducted by researchers at the University of Chicago. "Hunting is a traditional activity, and one that is declining in popularity."
Manufacturers, in presentations to analysts and investors, have acknowledged the central role that assault rifles and concealed handguns play in their financial health. They also often point out that sales frequently rise after mass shootings like the attacks over the last year in Paris, San Bernardino, California, and Orlando.
"This spike in demand was strongly correlated to the tragic, terrorist events in Paris and San Bernardino," Michael O. Fifer, the chief executive of Sturm Ruger, a major firearms maker, wrote in a letter to investors in May. "Demand for firearms for self-defense and concealed carry increased dramatically."
The popularity of handguns and assault weapons, experts say, reflects a fundamental shift over recent decades in who in America is buying guns and their reason for doing so.
Although about 50 percent of homes in the United States reported owning a firearm in the 1970s, that number by 2014 had fallen to 31 percent, according to the General Social Survey.
Significantly for gun makers, the number of Americans who identified themselves as hunters fell sharply during that same period. While some 32 percent of survey respondents said in the late 1970s that they or their spouse hunted, that number had plummeted to 15.5 percent by 2014.
The number of people who cite self-protection as the reason for owning a firearm has grown, said Smith, the social survey's director.
To Learn More:
Led by Pistols Sales, Gun Production has more than Doubled Since Obama became President (by Noel Brinkerhoff and Danny Biederman, AllGov)
As Hunting and Gun Ownership Decline, Remaining Gun Owners Stock Up (by Noel Brinkerhoff, AllGov)
Is the AR-15 becoming the Weapon of Choice for Deranged, Young Male Mass Murderers? (by Noel Brinkerhoff, AllGov)