Menominee County, Wisconsin is the Binge Drinking Capital of the United States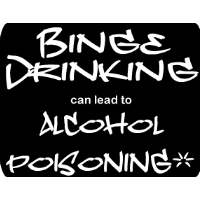 (graphic: peaceguam.org
Menominee County, Wisconsin, which comprises an Indian reservation, has the most binge drinkers of any county in the United States, according to a new report.
The Institute for Health Metrics and Evaluation (IHME) at the University of Washington issued a report that studied drinking habits from 2005 to 2012. It said that 36% of Menominee residents are binge drinkers. Binge drinking is defined as men consuming five or more drinks at a sitting, or four or more for women, during the previous month. The county with the smallest binge drinking rate, at 5.9%, is Madison County, Idaho, which has a predominantly Mormon population and is home to Brigham Young University of Idaho.
Binge drinking as a whole is up throughout the United States, according to the report, increasing 8.9% since 2005. "We are seeing some very alarming trends in alcohol overconsumption, especially among women," said Dr. Ali Mokdad, a lead author of the study and professor at IHME. "We also can't ignore the fact that in many U.S. counties a quarter of the people, or more, are binge drinkers." Women's rate of binge drinking is up 17.5%, while the corresponding number for men is only 4.9%.
Heavy drinking, defined as an average of two drinks a day for men and one for women has also increased, rising 17.2% since 2005. The number of Americans who drink at all has remained fairly steady, however, at 56% in 2005 and in 2012.
Menominee unfortunately has other health problems as well. Its numbers for quality of life, length of life, health factors such as smoking and obesity and other issues are at or near the bottom of Wisconsin's 72 counties. It is also the poorest county in the state.
-Steve Straehley
To Learn More:
Heavy Drinking and Binge Drinking Rise Sharply in U.S. Counties (The Institute for Health Metrics and Evaluation)
Rise in Heavy Drinking by Women Emerges as Public Health Threat (by Joe Smydo, Pittsburgh Post-Gazette)
County Health Rankings and Roadmaps—Menominee County (Robert Wood Johnson Foundation)
California Staggers Ahead of Nation's Boozers in Study of Excessive Drinking (by Ken Broder, AllGov)
Who Is Binge Drinking (by Jenny Kim, AllGov)