Los Angeles Police Escorted Ex-Mexican Mafia Killer to Meeting with Business Leaders
Sunday, February 08, 2015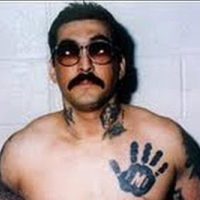 Rene Enriquez
Upon review, Los Angeles Police Department (LAPD) Chief Charlie Beck concurs that it was a mistake for officers to escort an incarcerated ex-Mexican Mafia leader and killer to a meeting in downtown Los Angeles with 125 wealthy business leaders and local police chiefs.
The appearance of Cerritos native Rene Enriquez—the subject of the book The Black Hand: The Bloody Rise and Redemption of "Boxer" Enriquez, a Mexican Mob Killer—was meant to be an educational experience "to learn how a transnational criminal enterprise was built, branded and marketed," according to a statement by the LAPD.
The event's sponsor, the Young Presidents' Organization (YPO), produced Enriquez on January 28 for the private meeting and PowerPoint presentation amid heavy security. Refreshments were served. YPO is the self-proclaimed "world's premier peer network of chief executives and business leaders."
Enriquez is currently serving two 20-to-life sentences under the supervision of the California Department of Corrections and Rehabilitation (CDCR). He began cooperating with authorities after leaving the gang more than a decade ago and has been in LAPD custody since 2011, according to the Los Angeles Times.
The Times reported that a parole board recommended after a September 2014 hearing that Enriquez be freed. Eleven law enforcement agencies gave the board glowing accounts of his work with them, including the FBI, the U.S. Department of Justice, the California Department of Justice, the Los Angeles Police Department and the Los Angeles County Sheriff's Department.
Governor Jerry Brown has the last word on it. A decision is expected within three weeks.
Enriquez has quietly appeared at a lot of events over the years. According to the 2013 Mexican Mafia Encyclopedia (pdf), "Rene is a highly sought after conference speaker at law enforcement seminars." And why not? "He is notorious for his innovative approach and considered a pioneer who successfully implemented the Mexican Mafia's tax program on Sureño street gangs, which remains in effect to this day."
The Enriquez entry also says he is "currently in prison at an undisclosed location." The undisclosed location, however, was actually known to one of the two co-authors—Enriquez himself.
Last week's gathering, at a historic 12-story building on busy Spring Street, did not appear to be all that discreet. The Times said an LAPD helicopter hovered above while half a dozen security personnel hustled the shackled guest speaker into the building and down to a large room two stories underground. Event-goers entered past a police dog and metal detector.
Chief Beck defended the gathering when it became known, texting, "He offers a perspective on organizations and leadership that is unknown to much of this audience." However, the next day, he conceded that "mistakes were made" and said the department would "more thoroughly review future events before committing LAPD resources."
In between, mayoral spokesman Yusef Robb said it "was inappropriate and should have never happened. We expect a full accounting of why this occurred and we are going to make sure this sort of thing never happens again."
L.A. Police Commission Chairman Steve Soboroff called it a "giant waste of public resources." He wants the independent inspector general to investigate.
"If you step back and look, the perception is it's like 'meet a real-life Mexican Mafia informant and have some hors d'oeuvres and get a book,' " Soboroff said.
-Ken Broder
To Learn More:
Gov. Jerry Brown Weighs Parole for Killer in Controversial LAPD Lecture (by Kate Mather and Victoria Kim, Los Angeles Times)
Jailed Mafia Hit Man Gets LAPD Escort to Meet L.A. Business Leaders (by Andrew Blankstein, NBC News)
Inmate Gives Speech to L.A. Business Group, and Everyone Freaks Out (by Gene Maddaus, LA Weekly)
Beck Admits "Mistakes" Over Meeting That Had Ex-Mexican Mafia Member (by Kate Mather, Richard Winton and Ruben Vives, Los Angeles Times)
LAPD Criticized for Event Featuring Ex-Mexican Mafia Leader (by Tami Abdollah, Associated Press)
LAPD Criticized for Arranging Downtown Talk by Mexican Mafia Killer (by Kate Mather, Richard Winton and Ruben Vives, Los Angeles Times)
Gangster Confidential by Michael Montgomery, American RadioWorks)