Longtime Problem of Lead in Newark Schools' Water System Hits Boiling Point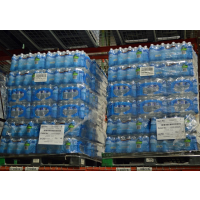 Water bottles delivered to Newark schools (photo: Community Food Bank of New Jersey)
By Ben Finley, Associated Press
TRENTON, N.J. (AP) — In New Jersey's biggest city, fears are growing over lead in the school district's water after a lab found elevated levels in nearly half its schools. The Newark district quickly shut off sinks and fountains in 30 buildings and has offered to test as many as 17,000 kids for contamination.
But the problem isn't new for the state's largest school district. Testing has shown elevated levels in some buildings over the last few years. And the district has been addressing issues of lead in the water since at least 2003.
The highest lead levels found in the water in Newark's schools, however, are far lower than those found in homes in Flint, Michigan, which is experiencing a crisis after the city changed its water supply.
Water also poses a relatively small risk of lead poisoning compared to more common sources, such as lead paint.
"One square centimeter of lead paint, about the size of your pinkie nail, has two times what you'd get from drinking a quart or water from highest level of lead in one the schools," said Dr. Steven Marcus, executive director of the New Jersey Poison Information & Education System at Rutgers University.
Nevertheless, parents are concerned, with dozens submitting their kids for blood tests when the district first offered them on Thursday.
"My first thing was, Flint, Michigan," said Dionne Bradshaw, whose daughter was tested. "That's the first thing I thought about. Ok, here we go again."
Here are some questions and answers on the situation:
HOW LONG HAS NEWARK KNOWN ABOUT LEAD IN THE WATER?
The district has been tackling the issue of lead coming from water sources, such as old sinks, in some schools since at least 2003, according to the federal Environmental Protection Agency.
John Martin, an EPA spokesman, said the agency found elevated levels in two of Newark's schools that year. It offered the district help in addressing the problem. But he said Newark turned down the offer because it had its own lead remediation program in place.
Newark schools superintendent Christopher Cerf recently acknowledged that the district has been addressing issues of lead in water sources for more than a decade. For instance, the district had been replacing faucets and adding filters after taps showed higher levels of the toxin.
The district has only started to release test results to the public. But in each year since 2012, an outside laboratory has found elevated levels in the taps of some school buildings. For instance, 15 percent of the water samples taken during the 2014-15 school year showed amounts of lead that require action from school officials.
WHAT IS THE SCHOOL SYSTEM DOING TO ADDRESS THE PROBLEM?
Newark is working with the state Department of Environmental Protection as well as the EPA to tackle the issue. Efforts include testing every tap at every school. The district is also offering blood tests of as many as 17,000 kids who were potentially exposed.
In a press release, superintendent Cerf said last week's test results prompted him to take action.
"By the time school opened Wednesday morning, we were shutting off all water fountains and other affected sites at any school that had received a positive reading," Cerf said.
But Newark's teachers union has criticized the state-controlled district for not taking such action in previous years. And Elise Pivnick, director of environmental health for Isles, a New Jersey-based environmental community group, added, "It's really an old problem. There's nothing new here. That water hasn't changed in the last three years."
HOW MUCH OF A PUBLIC THREAT IS LEAD CONTAMINATION IN NEWARK SCHOOLS?
The district says that the highest readings of lead were found in water sources not typically used for drinking and food preparation, such as a utility sink.
But looking at the big picture, paint - not water - should remain the biggest concern when it comes to lead poisoning, according to Dr. Marcus of Rutgers' poison center. He added that other items, such as the Mexican candy Tama Roca and a south Asian eyeliner known as Khol, have far higher levels of lead.
"We had 18 children in about the last year or year and a half who were hospitalized and treated for lead poisoning," he said. "The primary source was not water."
To Learn More:
It's Not Just Flint: Water Supplies in many U.S. Cities are Contaminated by Lead (by Michael Wines and John Schwartz, New York Times)
880,000 Pounds of Metals Landed in Animas River from EPA-Triggered Colorado Mine Spill (by Dan Elliott, Associated Press)
Exide's Successor Must Test for Lead Pollution Before Ramping Up Production (by Ken Broder, AllGov California)