Legislation Seeks to Bring National Security Council Back Under FOIA Purview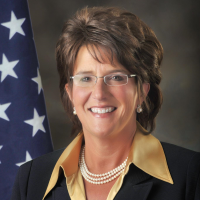 Rep. Jackie Walorski
By Marcie Shields, Courthouse News Service
WASHINGTON (CN) — Indiana congresswoman Jackie Walorski proposed new legislation that, if passed, will bring the U.S. National Security Council back under the Freedom of Information Act.
Walorski drafted H.R. 4922, also known as the Transparency in National Security Act, in response to rising concerns about the National Security Council's exponential growth and expanding role, as well as the widening scope of its decision-making power.
Established by the National Security Act of 1947 (pdf), the NSC is "mandated by statute to advise the president with respect to the integration of domestic, foreign, and military policies relating to the national security and to perform such other functions as the president may direct," according to Walorski's bill.
The NSC operates under the chairmanship of the president, with the secretary of state and defense secretary as additional key members.
The council actively complied with the Freedom of Information Act (FOIA) until 1996, when the D.C. Circuit found that the NSC did not "exercise substantial independent authority" and set aside its FOIA requirements. At the time of the ruling, the NSC had a staff of about 150 people.
The concern that Walorski and others share is that, in the 20 years since the ruling, each president has expanded the NSC's role and decision-making authority far beyond what the National Security Act intended.
Since President Barack Obama took office in 2009, NSC staff has doubled from 200 to 400 people, according to Walorski.
"The increasing micromanagement from the White House directly reduces the amount of oversight that Congress can have and undermines the authority of the Department of Defense," Walorski said in a statement. "This legislation is critical for this and future administrations and serves as a public reminder that presidents cannot avoid public scrutiny or accountability by consolidating authority in the White House."
In an interview with Fox News earlier this month, Robert Gates and Leon Panetta, both former secretaries of defense under Obama, criticized the NSC and the growth of its influence.
Panetta said NSC advisors shade their views in order to please the president and "try to influence the direction of policy through the back door."
"[This] undermines the very process that a president needs in order to get the best discussion and information possible to be able to make the right decision," Panetta said.
According to Gates, the NSC oversteps its boundaries by practicing "operational micromanagement" and "second-guessing [military] commanders."
Walorski, who represents Indiana's Second Congressional District, is a member of the House Armed Services Committee.
To Learn More:
Obama Administration Sets Record for Failure to Provide Documents for FOIA Requests (by Ted Bridis and Jack Gillum, Associated Press)
Lawsuit Accuses White House of Setting Roadblocks to Freedom of Information Act Requests (by Noel Brinkerhoff and Steve Straehley, AllGov)