Legal Settlement Delivers Blow to Blanket of Secrecy over Fracking Chemicals in Wyoming
Monday, February 09, 2015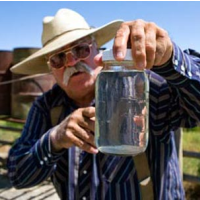 Louis Meeks of Pavillion, Wyoming with a sample of his well water (photo: Abrahm Lustgarten, ProPublica)
Drilling companies have fought far and wide to keep secret the list of chemicals used in hydraulic fracturing. But this effort has lost ground in Wyoming, where a lawsuit and subsequent settlement (pdf) will make it more difficult for frackers to withhold this information from the public.
Critics of fracking thought they had won a victory when Wyoming became the first state to require drillers to reveal the chemicals used in the controversial drilling process. But a significant loophole in the law allowed businesses to continue to withhold details on grounds that releasing them would expose trade secrets.
Several public interest and environmental groups objected to this exemption and sued the Wyoming Oil & Gas Conservation Commission. After a protracted legal fight, the commission and Halliburton Energy Services agreed to a deal with the plaintiffs, which included the Center for Effective Government, in which companies will have to "substantiate their trade secrets claims with more facts and evidence."
"This is a win for state residents and sets a standard for other states to follow," the Center for Effective Government's Amanda Frank wrote.
Some of fracking chemicals release toxins in the atmosphere that exceed federal safety standards, while others have polluted underground water supplies.
"Communities have a right to know what chemicals are being used in fracking so they can protect themselves from possible chemical exposure and hold companies responsible for their practices," Frank added.
-Noel Brinkerhoff
To Learn More:
Settlement in Public Interest Lawsuit Should Improve Fracking Disclosure in Wyoming (by Amanda Frank, Center for Effective Government)
Wyoming to Strengthen Fracking Chemical Disclosure in Response to Citizen Pressure (Center for Effective Government)
Powder River Basin Resource Council, et al, v. Wyoming Oil and Gas Conservation Commission, et al (District Court of Wyoming) (pdf)
Wyoming Supreme Court Moves Forward on Public Disclosure of Fracking Chemicals (by Noel Brinkerhoff, AllGov)
Wyoming Town Warned to Use Fans While Showering to Avoid Chemical Explosions (by Noel Brinkerhoff and David Wallechinsky, AllGov)