Kraft's Single-Slice Cheese Product Gets Nutritionist Group's "Kids Eat Right" Label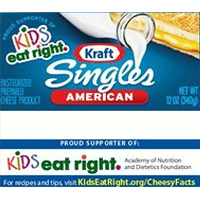 A group representing nutritionists and dietitians is allowing Kraft to put one of its seals of approval on the company's famous single servings of cheese product, even though the organization says the move is not an endorsement.
Soon be sold in stores will be Kraft Singles packaged with the "Kids Eat Right" label from the Academy of Nutrition and Dietetics, which counts about 75,000 dietitians and nutrition professionals as members. It is the first product to be afforded the right to bear the group's seal.
The announcement represented "a major coup for the Kraft Foods Group," according to The New York Times, despite the fact that "Kraft is a frequent target of advocates for better children's nutrition, who contend that many of its products are over-processed, with too much fat, sodium, sugar, artificial dyes and preservatives."
The company has forged a "three-year collaboration" with the academy, which has been criticized by some health advocates for the decision to allow Kraft to use the "Kids" seal.
"I am really shocked that this would be the first thing that the academy would choose to endorse," nutrition advocate Casey Hinds, who runs the USHealthyKids.org blog, told the Times' Stephanie Strom.
Although Kraft told the Times that its use of the group's seal amounts to an endorsement, media outlets—including the Times—report that the academy has "emphatically denied that the label was an endorsement."
In a statement, the academy noted that "Kraft is putting the 'Kids Eat Right' logo [on its packaging and] saying Kraft is a proud supporter of Kids Eat Right, not vice versa. The Academy has never once endorsed any product, brand or service, and we never will."
The academy has reportedly been taken to task for several years over its ties to the food industry, which include presentations made at its annual meetings by Kellogg and PepsiCo.
"You would think an organization that has come under fire for so many years for its relations with food companies might pick something other than a highly processed cheese product for its first endorsement," Andy Bellatti, founder of academy breakaway group Dietitians for Professional Integrity, told the Times.
-Noel Brinkerhoff, Danny Biederman
To Learn More:
A Cheese 'Product' Gains Kids' Nutrition Seal (by Stephanie Strom, New York Times)
Nutritionists Gave Kraft Singles A 'Kids Eat Right' Label, And No One Really Knows Why (by Lecia Bushak, Medical Daily)
Flamin' Hot Cheetos Are Even Too Junky for Junk-Food Loving Schools (by Ken Broder, AllGov California)
U.S. Cheese Industry Booming Thanks to Asian Craving for Pizza and Cheeseburgers (by Noel Brinkerhoff and David Wallechinsky, AllGov)
Agriculture Dept. Pushes Restaurants to Use More Fatty Cheese (by Noel Brinkerhoff, AllGov)