Koch Industries Buys into Sports Sponsorship for Missouri Valley Conference and 15 Midwestern Colleges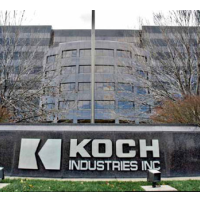 (photo: Larry W. Smith, AP)
Koch Industries, the fossil fuel giant owned by ultra-conservative brothers Charles and David Koch, is trying to increase its visibility on college campuses, both to improve the company's image and to recruit employees.
The strategy is being implemented through a media buy and sports sponsorships that include 15 colleges or universities located from Texas to Minnesota, plus the Missouri Valley Conference.
"Koch is looking for a way to connect on campus," Roy Seinfeld, executive vice president for national sales at Learfield Sports, the rights holder for 10 of the schools and the conference, according to Sports Business Journal. IMG College is the rights holder for the other five schools.
The 15 schools are University of Iowa, Iowa State, Kansas State, University of Minnesota, University of Oklahoma, Oklahoma State, Southern Methodist University, Texas A&M, Texas Tech, University of Wisconsin, University of Arkansas, University of Houston, University of Kansas, University of Nebraska and Texas Christian University.
Charles Koch has for several years has had his name on Wichita State's basketball arena after Koch Industries, based in Wichita, Kansas, helped finance a makeover of the facility.
The branding campaign for the oil, energy, manufacturing and chemical conglomerate includes LED courtside signage at basketball games, in-game promos and radio advertising. The company even sponsored "12th man" towels, complete with a Koch Industries logo, at a Texas A&M basketball game. The signage encourages students to check out the job site, KochCareers.com.
Seinfeld also said the campaign will involve other activities, such as internships, reaching out to alumni and "other initiatives to ingrain themselves on campus."
-Noel Brinkerhoff
To Learn More:
Koch Seeks to Connect on Campus (by Michael Smith, Sports Business Journal)
College Athletics Department Bans Sponsorship From 'Feminine Hygiene Products,' Signs With Koch Industries (by Josh Israel, ThinkProgress)
Green Sports or Greenwashing? A Lesson from the Koch Brothers (by Lew Blaustein, Green Biz)