Justice for the Poor…No Bail, Stay in Jail
Tuesday, December 25, 2012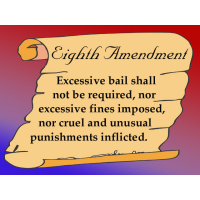 Lack of money is causing hundreds of thousands of Americans to spend more time behind bars than they should, simply because they can't afford to post bail.
The Eighth Amendment, part of the 1791 Bill of Rights, states that "Excessive bail shall not be required." However, an exposé by the Christian Science Monitor found that about 750,000 people are in local jails on any given day in the U.S., with two-thirds awaiting trial. Of those waiting for the judicial system to decide their fate, about 80% have no choice but to remain in their cells due to their inability to pay the cost of making bail.
If they could afford bail, they would most likely never spend any length of time incarcerated. That's because about 95% of all jail inmates are never given prison sentences after being convicted. Instead, the vast majority of those arrested and found guilty wind up serving probation or (for drug offenders) going into rehab. In some jurisdictions, it would appear that unaffordable bail is used as a form of unofficial punishment.
One example cited by the newspaper involved teenager Perchelle Richardson of New Orleans, who was arrested for stealing her neighbor's iPhone. A high school student with no previous criminal record, Richardson found herself spending nearly two months in jail because her family couldn't come up with $200 for her bail.
By the time the courts had time to hear her case (50 days after she was arrested), the district attorney decided to not prosecute Richardson, who was assigned to a diversion program that required her to periodically check in with court staff for a few months.
Richardson's 51 days in jail cost the city of New Orleans $1,142. And all because a couple hundred dollars in bail money was out of reach.
According to a research study carried out by attorney Shima Baradaran and economist Frank McIntyre, three-quarters of those held in jails for felonies have been arrested for nonviolent crimes and less than 2% of those released are rearrested for a violent crime before their trial.
-Noel Brinkerhoff
To Learn More:
Jailed Without Conviction: Behind Bars For Lack Of Money (by Katy Reckdahl, Christian Science Monitor)
Predicting Violence (by Shima Baradaran and Frank McIntyre, Texas Law Review)
Pre-Trial Program Strives To Keep Some Inmates Out Of Jail (by Edith Brady-Lunny, Bloomington Pantagraph)