Just Two Scientists Left in Congress
Wednesday, January 07, 2015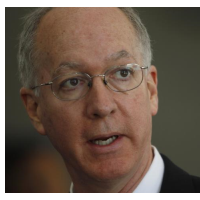 Rep. Bill Foster (photo: Stacy Thacker, AP)
Congress and scientific expertise rarely go hand in hand, with only a handful of scientists making up the membership on Capitol Hill at its peak. But the House now has only two lawmakers with Ph.D.s in science, and the Senate has none.
There were three scientist/representatives, but that was before Democrat Rush Holt of New Jersey retired. Now, it's down to Representatives Bill Foster (D-Illinois) and Jerry McNerney (D-California).
Members of the scientific community are concerned about the nation's leading legislative body making decisions affecting science with so few voices of authority in physics, biology and chemistry.
"What we are sorely missing in the Congress today are those who are science-minded," Mary Woolley, president of Research! America, a nonprofit that advocates for increased medical and health research funding, told The Wall Street Journal. "We are skating on thin ice."
Science advocates are particularly worried about House Republicans approving a bill that would bar scientists from discussing their own research on federal environmental science boards. This would leave plenty of room for industry experts to share their employers' views on a subject, according to Lindsay Abrams in Salon. "I get it, you don't like science," Rep. Jim McGovern (D-Massachusetts) told bill sponsor Chris Stewart (R-Utah). "And you don't like science that interferes with the interests of your corporate clients. But we need science to protect public health and the environment."
-Noel Brinkerhoff
To Learn More:
Science Advocates Decry Lack of Representation in Congress (by Heather Haddon, Wall Street Journal)
House Republicans Just Passed a Bill Forbidding Scientists from Advising the EPA on Their Own Research (by Lindsay Abrams, Salon)
Scientists Trying to Study Extreme Weather Events Hampered by Funding and Politics (by Noel Brinkerhoff, AllGov)