Just before Resigning, U.S. Attorney Blames Computer Glitch for withholding Information from Defense Lawyers in Thousands of Cases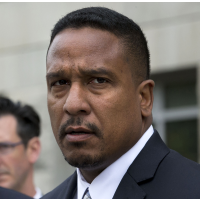 Ronald C. Machen Jr. (photo: Jacquelyn Martin, AP)
The United States Attorney for the District of Columbia has announced he is stepping down, a decision that reportedly is not connected with the discovery that evidence in possibly thousands of D.C. criminal cases was withheld by police from defense lawyers.
U.S. Attorney Ronald C. Machen Jr. revealed his plans to resign only hours after he informed defense attorneys in a letter that a "glitch" in the D.C. police computer system inadvertently left certain information out of police reports since 2012.
The reports sometimes include witness accounts or evidence forms that are given to defense attorneys before trials.
"It was possible that in pending and past cases, [the police department] was in possession of information that should have been disclosed to the defense and had unwittingly failed to provide that information," Machen said in the letter, according to The Washington Post.
The problem has been blamed on a computer program called I/Leads, used by police to provide case information. Certain data has apparently been failing to download during attempted integration of the material into existing documents. There have been ongoing problems with this program since it was installed into the police department's computer system three years ago, according to Delroy Burton, chairman of the D.C. police officers union.
Machen claimed the omitted information uncovered so far was "minimal in quantity" and had, in most cases, already been provided to defense attorneys through other means. The Post's Alexander and Peter Hermann noted that the U.S. Attorney's Office doesn't yet know how many cases were impacted by the computer mistake.
Some defense attorneys were upset at the news and wondered just how big a problem the district has on its hands. They also questioned why prosecutors, as opposed to defense attorneys, are the ones who are deciding whether or not the missing data would have had an impact on the cases.
Julia Leighton, general counsel for the district's Public Defender Service, said the missing information "called into question the fairness of the trials." Defense attorney Danny Onorato told the Post: "One can only hope that no one was wrongfully convicted as a result of this mishap."
Officials within the U.S. Attorney's office told the newspaper that Machen's resignation was not connected to the problem with the reports.
The computer problem comes on the heels of another one involving the D.C. Department of Forensic Sciences laboratory, which was found to have made "critical errors" in its analysis of DNA evidence. That problem is so bad that prosecutors are now using outside DNA experts and labs to test or evaluate evidence.
-Noel Brinkerhoff
To Learn More:
D.C. Computer Glitch May Have Hidden Evidence in Thousands of Cases (by Keith L. Alexander and Peter Hermann, Washington Post)
Prosecutors Criticize D.C. Crime Lab's Handling of Some DNA Evidence (by Keith L. Alexander, Washington Post)