Judge Rules against Giant Peach and Nectarine Grower in Fight with Farmworkers Union
Wednesday, September 23, 2015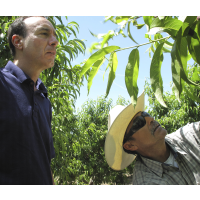 Gerawan Farming president Dan Gerawan (left) with crew boss in nectarine orchard (photo: Scott Smith, AP)
A California labor judge has invalidated the state's largest tree fruit grower's effort to break up the union representing its workers.
Administrative Law Judge Mark Soble ruled against Gerawan Farming, the biggest grower of peaches and nectarines in California, which backed a vote by farmworkers to decertify the United Farm Workers (UFW) from representing them.
The UFW formed a union at Gerawan Farming in 1992, but was never able to negotiate a contract with the grower.
The union came back to the farm in 2012 to try again to negotiate a contract. The following year, worker Silvia Lopez led an effort to get the other 2,000 members to quit quite the UFW. That resulted in a vote by the farmworkers to decertify, which was challenged by the UFW before the Agricultural Labor Relations Board. There, Soble nullified the vote, saying Gerawan Farming had tainted the election.
"As a result of the employer's unlawful support and assistance, I am setting aside the decertification election and dismissing the decertification petition," Soble wrote in his ruling (pdf). "Given that the unlawful conduct tainted the entire decertification process, any election results would not sufficiently reflect the unrestrained free expression of the bargaining unit members."
Soble found Gerawan Farming had given preferential treatment to workers organizing the decertification campaign, allowing them to pass out literature during the workday but preventing the union from distributing its own materials.
The UFW claimed Lopez "received a $20,000 donation from the Fresno-based California Fresh Fruit Association to assist with 'travel expenses.' In his 192-page ruling, Sobel cited Gerawan's complicity in the donation, writing 'There is powerful circumstantial evidence to suggest that the company knew about this donation beforehand,'" the Legal Reader reported.
The ruling will now go to the ALRB for a further appeal.
-Noel Brinkerhoff
To Learn More:
California Judge Rules for UFW in Battle Against Gerawan Farming (by Jeremy Lesh, Legal Reader)
UFW Wins Fight Against Giant Cal. Farm (by Elizabeth Warmerdam, Courthouse News Service)
UFW Wins Key Ruling in Decades-Long Fight with Grower (by Geoffrey Mohan and Stuart Pfeifer, Los Angeles Times)
Gerawan Farming v. United Farm Workers of America (California Agricultural Labor Relations Board)
Settlement Pushes Cal-OSHA to Enforce 2005 Heat Protection for Farmworkers (by Ken Broder, AllGov California)