Judge Assigned to Dennis Hastert's Sex Payments Cover-Up Case Contributed to his Campaigns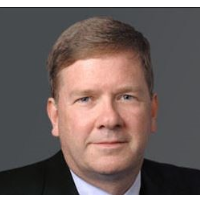 Judge Thomas M. Durkin (photo: Mayer Brown)
Former House Speaker Dennis Hastert (R-Illinois) will be arraigned Thursday in federal court and face a judge who previously supported his campaigns.
U.S. District Judge Thomas Durkin of Chicago contributed twice to Hastert's reelection efforts, $500 in 2002 and $1,000 in 2004, according to the Federal Election Commission.
Durkin made the donations while he was a partner at the Chicago law firm of Mayer Brown. Hastert's son Ethan also works for Mayer Brown.
Durkin, who was appointed to the bench in December 2012 by President Barack Obama, is the brother of Jim Durkin, the current Republican leader of the Illinois House. Despite the potential conflicts of interest, there has been no indication that Durkin will step down or be removed from the case.
One expert said Durkin might bring up the contributions in court and ask if either side has an objection. "He could ask if anyone has a problem with that. Certainly, the government won't have a problem with that," New York University law professor Stephen Gillers told Politico.
Hastert faces one count each of evading currency-reporting requirements and making a false statement to federal authorities. If convicted, he faces up to five years in prison and a $250,000 fine for each charge. The indictment said Hastert made payments of $1.7 million to an unnamed individual to cover up previous illicit conduct. Sources say Hastert, a former teacher and wrestling coach, had sexual contact with a student.
-Noel Brinkerhoff
To Learn More:
Hastert to be Arraigned Thursday in Federal Court in Chicago (by Jason Meisner,
Chicago Tribune)
Hastert Judge Also Donated To His Campaigns (by Josh Gerstein, Politico)
Former House Speaker Dennis Hastert Accused Of Hiding Sex Abuse Of Former Student (by Richard Serrano and Katherine Skiba, Los Angeles Times)
Mystery Surrounds Hastert Case — Including His Whereabouts (by Mike DeBonis, Sari Horwitz and Jerry Markon, Washington Post)