It Pays for Lawmakers to Criticize Their Colleagues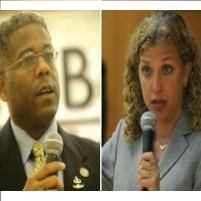 Reps. Allen West and Debbie Wasserman Schultz
Things have gotten nasty between two congressional representatives from Florida, and both sides are trying to leverage the situation for political contributions.
"The gentleman from Florida, who represents thousands of Medicare beneficiaries, as do I, is supportive of this plan that would increase costs for Medicare beneficiaries — unbelievable from a member from south Florida."
No name calling. Nothing derogatory. Just plain debate on the floor of the House.
West responded angrily by emailing:
"Let me make myself perfectly clear, you want a personal fight, I am happy to oblige," he wrote. "You are the most vile, unprofessional, and despicable member of the US House of Representatives. If you have something to say to me, stop being a coward and say it to my face, otherwise, shut the heck up. Focus on your own congressional district!"
West added:
"From this time forward, understand that I shall defend myself forthright against your heinous characterless behavior. . . . You have proven repeatedly that you are not a Lady, therefore, shall not be afforded due respect from me!"
Hoping to take advantage of West's vitriol, the Democratic Congressional Campaign Committee launched a fundraising drive this week, asking supporters to help finance the 2012 campaign to unseat the Republican lawmaker.
But when it comes to raking in campaign contributions, West is a master. He was the leading House GOP freshman fundraiser in the second quarter of 2011 ($1.6 million), tripling the amount of the second-place finisher.
So it is no surprise that West's campaign office sent out its own fundraising message, seeking help to fend off the Democrats' charge. "It's not a coincidence that she is the chairwoman of the DNC and that the Democrats are making me target #1 for defeat," West wrote. "She's an attack dog for the liberal, progressive wing of the Democratic Party — plain and simple."
-Noel Brinkerhoff