As College Grads Drop Down the Job Market, Non-Grads are Bumped Off
Wednesday, March 12, 2014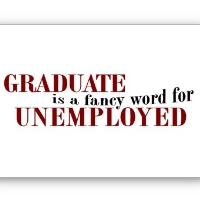 The weak economic recovery has been hard on college graduates seeking employment who, in turn, have made it more difficult for young people with only a high school education looking for work.
The situation is forcing people with bachelor's degrees to accept low-wage service jobs, while those with no college are either stuck in even lower paying jobs or are dropping out of the job market altogether.
"The underemployment of college graduates affects lesser educated parts of the labor force," economist Richard Vedder, director of the Center for College Affordability and Productivity, a nonprofit think tank, told Bloomberg. "Those with high-school diplomas that normally would have no problem getting jobs as bartenders or taxi drivers are sometimes kept from getting the jobs by people with college diplomas."
The problem starts with college-educated people who can't find jobs that match their education or skills. In 2001, the percentage of college grads (ages 22 to 27) whose jobs didn't require that level of education was 34%.
By 2012, that rate had shot up to 44%, according to a report (pdf) from the Federal Reserve Bank of New York.
This means members of the Millennial generation are going through what the previous cohort, Generation X, experienced after college in the early 1990s.
The rate of over-qualified, underemployed young people during the 1990-1991 recession reached 46%.
Things got better for Gen Xers as the decade went on and the first Internet boom produced many well-paying employment opportunities. It remains to be seen if that will happen for the Millennials.
The job outlook is particularly bleak for Millennials who didn't go to college.
The Bureau of Labor Statistics reports that among those 25 to 34 in age who have only completed high school, the unemployment rate increased by 4.3% from 2007 to 2013, reaching 10.6%.
During the same period, more and more less-educated young adults simply gave up trying to get work.
The labor participation rate for Americans ages 25 to 34 with just a high-school diploma fell by 4% from 2007 to 2013, where it hit 77.7%.
-Noel Brinkerhoff
To Learn More:
College Grads Taking Low-Wage Jobs Displace Less Educated (by Katherine Peralta, Bloomberg)
Are Recent College Graduates Finding Good Jobs? (by Jaison R. Abel, Richard Deitz, and Yaqin Su, Federal Reserve Bank of New York) (pdf)
For the First Time, Number of Unemployed Who Attended College Outnumber Those Who Didn't (by Noel Brinkerhoff, AllGov)
College Graduate Unemployment Depends on Your Major (by Noel Brinkerhoff, AllGov)