Is 40 Years Solitary Confinement Enough?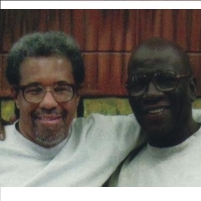 Herman Wallace and Albert Woodfox
Two inmates in Louisiana's prison system have spent nearly four decades in solitary confinement, raising cries of protests by human rights and prisoner advocates.
Amnesty International has called the treatment of Woodfox and Wallace "cruel, inhuman and degrading," and has demanded the release of both prisoners from Closed Cell Restriction.
Woodfox and Wallace are confined to their cells, which measure 6 x 9 feet, for 23 hours a day and they have never been allowed to work or to have access to education.
Woodfox is currently being held at Wade Correctional Center in Homer, and Wallace at Hunt Correctional Center in St. Gabriel. Their supporters believe the real reason they were originally targeted for punishment was that they were political activists who organized protests against prison conditions.
-Noel Brinkerhoff, David Wallechinsky