Indiana Mental Health Patients Sue for Right to Vote
Monday, February 29, 2016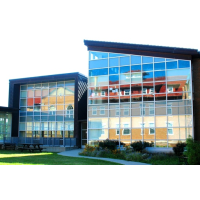 Madison State Hospital (photo: IN.gov)
By David Wells, Courthouse News Service
NEW ALBANY, Ind. (CN) - An Indiana law robs people who live at mental health facilities of their right to vote, residents claim in a federal class action.
The 13-page class action lawsuit filed Thursday claims that Indiana Code §3-5-5-17 denies residents who are committed to mental health facilities their right to vote by not allowing them to claim residency where the facilities are located.
Filed against Indiana Secretary of State Connie Lawson, Indiana Election Commission members, the Jefferson County Clerk and the state itself, the lawsuit claims that the law is unconstitutional and violates federal disability law.
The Indiana Protection and Advocacy Services Commission, represented by the Indiana Chapter of the American Civil Liberties Union (ACLU), and lead plaintiff Patricia Featherston sued on behalf of a proposed class of all adults who cannot vote in the same precinct as their mental health institution because of the state law.
Featherston lives in Jefferson County at the Madison State Hospital, a place she has called home since 2006, and has been deemed mentally ill.
The complaint claims that, alongside another 20 residents from the Madison State Hospital, Featherston has voted in past elections and used the hospital as her address because she has no other family in the state.
She may not be able to continue to do so, as the Feb. 25 complaint claims that the Jefferson County Clerk has stated that, in accordance with state law, the hospital cannot be claimed as their voting residence.
Specifically, the Indiana Code in question states, "A person who is: adjudged mentally ill; and committed to an institution for individuals with a mental illness; does not gain residency in the precinct in which the institution is located."
Featherston claims the law is a form of discrimination because similar restrictions do not apply to college students and those who live in a veterans home, who are allowed by law to vote in those precincts.
The residents of those facilities, like the Jefferson County hospital where Featherston lives, have often been committed for many years and have no other homes where they could claim residency to vote.
"Some of [Indiana Protection and Advocacy Services Commission's] clients are not able to claim residency anywhere in Indiana. Others reasonably view the state institution for mental illness where they have been confined for long periods of time as their homes and wish to participate in elections in their homes and to vote on issues of concern in their communities," the lawsuit states.
The complaint claims that the voting law affects more than 600 mentally ill residents, and could affect up to 850 given the maximum occupancy of the five state hospitals that house such residents.
The residents seek a court declaration that Indiana Code §3-5-5-17 is unconstitutional. They are represented by Kenneth Falk and Gavin Rose of the ACLU of Indiana, and Melissa Keyes, Thomas Crishon and Grant Helms of the Indiana Protection and Advocacy Services Commission.