In Phoenix, Early Voters Seeking to Avoid Election Day Lines are Stymied by Replay of Primary Fiasco
Saturday, November 05, 2016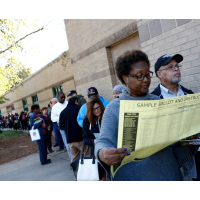 Early voters in line at Charlotte, N.C. precinct, Nov. 2016 (photo: Brian Blanco, Getty Images)
By Terry Tang, Associated Press
GLENDALE, Ariz. (AP) — Some Phoenix-area voters hoping to avoid long lines on Election Day by casting early ballots have ended up waiting anyway.
Dozens of voters who crammed inside an office building in Glendale that was serving as a polling site Wednesday reported waiting for more than two hours.
"We were in there like sardines," said Vannessa Bonilla, 26, of Phoenix, a Republican who voted for the first time.
Voters endured waits of more than five hours in the March primary. The county cut polling locations to just 60 from about 200 in the 2012 primary.
The wait prompted a civil rights group to file a lawsuit against Maricopa County. The county settled it by agreeing to implement a plan to avoid polling place wait time.
Deborah Eastman, 64, of Glendale, a registered Republican who voted Wednesday for Democrat Hillary Clinton, had hoped to make it to Clinton's Phoenix rally. But after waiting 2 ½ hours, the substitute teacher didn't think she would.
"I figured she'd rather have me vote for her than show up at the rally," Eastman said.
The long wait time was largely due to limited staff and equipment to handle the unexpectedly large crowd. Voters have to fill out a slip before getting their ballot printed out. There was only one computer, one printer and a couple of workers assigned to the site.
Maricopa County recorder's office spokeswoman Elizabeth Bartholomew said county election officials will send additional staff and another computer to the Glendale site Thursday.
Three other sites — in Scottsdale, Tempe and Mesa — were similarly busy. They will get more staff on Friday, the last day to vote early in person.
Bartholomew said people could also drive to polling places that have had no waits, including one in downtown Phoenix and another at Arizona State University.
Elections officials said they were happy to see the unprecedented turnout.
The county only had a dozen in-person, early voting sites for the 2012 general election, according to Bartholomew. This year it's more than doubled with 25.
Several Maricopa County voters cited an especially ugly campaign season and the long waits in Arizona's presidential primary as reasons for voting early.
To Learn More:
Phoenix Primary Voters Had 5-Hour Wait, Some Casting Ballots Past Midnight (by Bob Christie, Associated Press)