In Blow to Climate Change Fight, EPA Prepares to End Alternative Fuel Program
Wednesday, November 26, 2014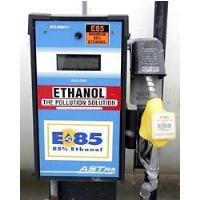 (photo: Kiichiro Sato, AP)
The Environmental Protection Agency (EPA) is planning to pull back on a program that requires alternative fuels become part of the nation's fuel supply. In doing so, the EPA has provoked loud complaints from environmentalists and public officials in California.
The renewable fuel standard, which has been in effect for seven years, is in danger of being scrapped by the EPA. The mandate requires more ethanol and other biofuels be blended into the nation's gasoline supply as time goes on in an effort to reduce the U.S. reliance on oil to run automobiles.
Currently, most of the alternative fuel being blended is corn ethanol. Environmentalists hate corn ethanol "because of the amount of energy it takes to grow and process corn, as well as its potential to drive up food prices," the Los Angeles Times reported.
So green advocates have been working with investors to develop a new generation of biofuels that instead rely on sources such as corn husks, algae, sorghum and forest brush. Those efforts, however, could come to a halt without the EPA's mandate in place. And the end of the program could mean the end of the line for smaller companies engaged in ethanol production from sources other than corn.
The decision by EPA officials came after intense lobbying by oil companies, car manufacturers and driving enthusiasts.
In addition to environmentalists calling for the EPA to reconsider, Democratic California Governor Jerry Brown is among "several prominent politicians in the West who have personally appealed to the administration to drop the rollback plan," according to the Times' Evan Halper.
EPA Administrator Gina McCarthy says the production of too much corn ethanol has forced the agency to halt the program for the time being.
-Noel Brinkerhoff
To Learn More:
White House Threatens to Put Brakes on Alternative Fuels (by Evan Halper, Los Angeles Times)
EPA Pushed Oil Companies to Pay for Non-Existent Biofuel Additive (by Matt Bewig, AllGov)