Hundreds of Foreign Exchange Students Walk off Job at Hershey's Candy Warehouse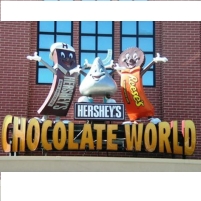 After paying several thousand dollars just to get there, students from around the world have been spending their summer in Central Pennsylvania, packaging Hershey's candies for low wages and long hours. They came to the U.S. on the promise of experiencing cultural sites and events, but after getting none of that, hundreds of students walked off the job.
The U.S. government is now investigating claims that the students were exploited, and the Hershey Co. has a public relations problem on its hands. Regular employees of Hershey's earn $18 an hour. The foreign students were taking home between $7.85 and $8.35 per hour. Hershey CEO David West took home $7.5 million last year.
One student worker, Harika Ozer of Turkey, told the media some students want their money back, since all "we have here is work, sleep, eat. They did not offer us any cultural things."
Meanwhile, the organizations responsible for employing the students have tried placating them by offering a week's paid vacation and cultural-enhancing day trips to Philadelphia, Amish country, and Gettysburg.
-Noel Brinkerhoff