Huge Increase Seen in Close Encounters between Drones and U.S. Aircraft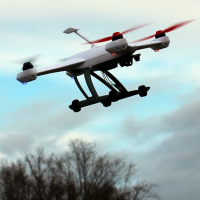 (photo: RC Drones, YouTube)
More drones in U.S. skies means that they're sharing space with manned aircraft—and coming a little too close for comfort in some cases.
The Federal Aviation Administration (FAA) reported that there have been more than 650 reports by pilots of drones flying near their aircraft so far this year. That's a huge increase from the 238 such incidents reported in all of 2014.
"It's a startling number," Steve Marks, a Miami aviation lawyer, told USA Today. "It's going to exacerbate an already dangerous situation." On August 9, four crews flying airliners into Newark's international airport reported seeing drones at between 2,000 and 3,000 feet of altitude.
Drone sightings have even led officials to ground firefighting aircraft. In June, drones were spotted at altitudes of more than 10,000 feet near a fire in California's San Bernardino Mountains. One drone came within 500 feet of airplanes and operations were temporarily halted.
The FAA has levied fines against drone operators and has more open cases, the agency reported.
-Steve Straehley
To Learn More:
Irresponsible Drone Use Is On The Rise, Says FAA (by Ariha Setalvad, The Verge)
FAA: Drone Sightings on Pace to Quadruple This Year (by Bart Jansen, USA Today)
Pilot Reports of Close Calls With Drones Soar in 2015 (Federal Aviation Administration)
Arrival of Domestic Drones Challenges Air Safety (by Noel Brinkerhoff and David Wallechinsky, AllGov)