House Republicans Try to Repeal Estate Tax and Give the 25 Richest Americans a $334 Billion Tax Break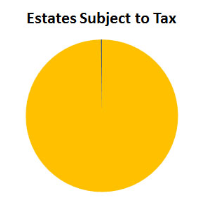 Graphic: Steve Straehley/AllGov
Republicans in the House voted last month to do away with the estate tax, claiming they want to help small business owners. But the biggest beneficiaries of the tax's repeal would be billionaires.
The Death Tax Repeal Act of 2015, which cleared the House 240-179 on a nearly party-line vote, would amount to a $334 billion tax break for 25 of the nation's billionaires.
The list of 25, compiled by the Center for Effective Government, includes Bill Gates, Warren Buffett, George Soros, and Carl Icahn, all of whom have said they want the tax to remain in force.
Republicans insist they just want to prevent mom-and-pop companies and family farms from being affected by the tax, although the GOP hasn't been able to produce one such example. That might be because the first $5.43 million of an estate is exempt from the tax, which would leave those farms and businesses untouched by the levy. It's the truly wealthy, part of the Republican base, who are hit by the tax.
In 2013, only one out of every 700 estates had to pay the tax, according to the Center for Effective Government. It's estimated by The Joint Committee on Taxation that the tax will hit 5,400 estates this year, about 0.2% of the 2.6 million deaths expected in the U.S. this year. The estate tax currently provides $27 billion a year in revenue for the U.S. government.
The repeal will have a tough time clearing the Senate, where Democrats are expected to filibuster the proposal if it's brought to the floor. And if it were to pass the Senate, President Barack Obama would probably veto the bill.
-Noel Brinkerhoff
To Learn More:
House Gives $334 Billion Tax Break to 25 Richest Americans (by Scott Klinger, Center for Effective Government)
House Votes To Repeal Estate Tax (by Bernie Becker and Cristina Marcos, The Hill)