Homeland Security Grants Rigged to Favor Religious Groups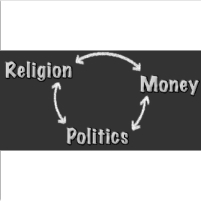 (graphic: silvermonthly.com)
Applicants must answer 12 questions, with a possible high score of 40 that determines those most eligible for the $19 million in grants. A multiplier is also factored in—a multiplier that heavily favors any non-profit with a religious affiliation.
For example, a religious group could score a paltry 13 on the questions, but still wind up with a near perfect score of 39, because the multiplier triples the totals of applicants that are part of a church.
Medical and educational institutions also enjoy a multiplier, but theirs will only double the score.
"That's bad news for nonprofits that aren't affiliated with a religion, but it's potentially worse for taxpayers, because taxpayer-funded grants might be going to organizations with inferior proposals just because they are religiously affiliated," says Francisco. "Furthermore, communities with high-risk organizations might lose out on funding to protect them from terrorism because of a rule giving a significant advantage to religiously-affiliated groups."
-Noel Brinkerhoff