Homeland Security: A Good Department to Quit
Thursday, September 25, 2014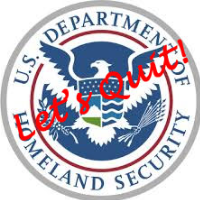 Graphic: Steve Straehley, AllGov
The federal agency charged with protecting domestic security is struggling to keep its top officials and rank-and-file employees in place as it suffers from low morale and a toxic workplace.
The Department of Homeland Security (DHS), according to The Washington Post, is a wreck internally, making its job of thwarting terrorism and other threats that more difficult. DHS workers have bailed out of the agency at twice the rate of other federal agencies over the past four years, in part because of "a dysfunctional work environment, abysmal morale, and the lure of private security companies paying top dollar that have proliferated in Washington since the Sept. 11, 2001, attacks," The Post's Jerry Markon, Ellen Nakashima and Alice Crites wrote.
Two critical DHS sections—the intelligence wing and Customs and Border Protection—have each had six different leaders in the six years of the Obama administration.
Meanwhile, the effectiveness of the Transportation Security Administration (TSA) has been hurt by the loss of senior and junior personnel. Kenneth Kasprisin, who briefly led TSA in 2005 and left the agency in May, said TSA has suffered from "a toxic culture" and "terrible" morale. "You cannot sustain a high level of security operations when you have that kind of turnover," he told the Post.
Tests in which undercover agents try to sneak contraband past airport checkpoints are increasingly being failed by TSA employees. Kasprisin called the frequency of the failures "frightening."
The high rate of management turnover at DHS has also delayed the implementation of cybersecurity projects, increasing the risk of hackers getting into government computers and databases.
Many senior-level DHS employees are jumping ship for the private sector. Consulting groups, including one run by George W. Bush-era DHS Secretary Michael Chertoff, pay as much as three times what the government does, particularly for cybersecurity experts. "DHS can't keep anyone in cyber. They just can't do it,'' one former DHS official told The Post. "You can make $150,000 protecting the nation or you can make $650,000. Which one are you going to do?''
-Noel Brinkerhoff, Steve Straehley
To Learn More:
Top-Level Turnover Makes it Harder for DHS to Stay on Top of Evolving Threats (by Jerry Markon, Ellen Nakashima and Alice Crites, Washington Post)
Does U.S. Need a Department of Homeland Security? (by Jerry Markon, Washington Post)
Why is Morale so Low at Dept. of Homeland Security? (by Matt Bewig, AllGov)
House Subcommittee Hearing on Low Morale at Homeland Security Fails to Call Any Employees as Witnesses (by Noel Brinkerhoff, AllGov)