Gun Ownership most Common in Alaska and Arkansas; Least Common in Delaware and Rhode Island; 29% Nationwide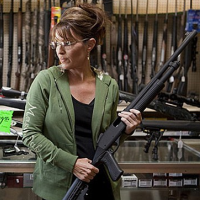 Former Alaska Governor Sarah Palin (photo: Scope Features)
Less than a third of all Americans claim to own a gun, with the state of Alaska leading the way in having the highest rate of gun ownership. At the other end of the spectrum is Delaware, with the lowest rate.
Research published in the medical journal Injury Prevention shows that nearly 62% of residents of Alaska owns guns. No other state in the country boasts a gun ownership rate of 60% or higher.
A close second is Arkansas, which has an ownership rate of 58%. Five other states have rates of 50% or more: Idaho (57%), West Virginia (54.2%), Wyoming (54%), Montana (52.3%), and New Mexico (50%).
The states where the least amount of citizens pack heat are Delaware (5.2%) and Rhode Island (5.8%). They are also the only two states that rank below 10%. The next lowest are New York (10.3%) and New Jersey (11.3%).
The study also determined that gun ownership is highest in locations that exhibit a strong gun culture, and in rural states with low population density. Additionally, most gun owners tend to be older than age 55, it was reported.
The study's researchers based their assessment on data from 2013, which was derived from a sample of 4,000 adult Americans from all 50 states and the District of Columbia.
- Danny Biederman, Noel Brinkerhoff
To Learn More:
National Gun Ownership Rate (Injury Prevention)
Gun Ownership and Social Gun Culture (by Bindu Kalesan, Marcos D. Villarreal, Katherine M. Keyes and Sandro Galea, Injury Prevention)
Despite All the Rhetoric, Texas Gun Ownership Rates Just Above National Average (by Matt Levin, Houston Chronicle)
As Hunting and Gun Ownership Decline, Remaining Gun Owners Stock Up (by Noel Brinkerhoff, AllGov)
One Third of Americans Own Guns, but Only 4% Go Hunting (by Noel Brinkerhoff, AllGov)