Government Engineers Warn of Nuclear Plant Flood Risks
Friday, September 21, 2012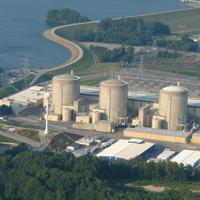 Oconee Nuclear Station
An engineer with the Nuclear Regulatory Commission (NRC) has accused the agency of covering up warnings about nuclear power plants vulnerable to flooding, which could result in disasters similar to the Fukushima meltdown in Japan.
Richard H. Perkins, a reliability and risk engineer with the NRC's division of risk analysis, said superiors blacked out critical portions of a report he helped author that detailed which nuclear plants face the risk of flooding from swollen rivers or reservoirs.
In a letter to the NRC, Perkins also accused the agency of failing to take action and correct the plants' vulnerabilities to flooding.
Perkins' assertions were backed up by another anonymous NRC risk engineer who warned that the three reactors at the Oconee Nuclear Station near Seneca, South Carolina, could face a Fukushima-like episode should a nearby dam fail and knock out the plants' cooling system.
Both engineers suggested that the NRC was inclined to keep the information about vulnerable plants a secret from the public and not let on how much the agency knew about the dangers.
Other plants located near significant waterways include the Ft. Calhoun Station in Nebraska, the Prairie Island Nuclear Generation Plant in Red Wing, Minnesota, and the Watts Bar Nuclear Plant in east Tennessee.
-Noel Brinkerhoff
To Learn More:
Flood Threat To Nuclear Plants Covered Up By Regulators, NRC Whistleblower Claims (by Tom Zeller Jr., Huffington Post)
Nuclear Regulatory Commission Engineers Charge Government Coverup: Reactor Meltdown "Absolute Certainty" If Dam Fails … 100s of Times More Likely than Tsunami that Hit Fukushima (Washington's Blog)
Concealment of Significant Nuclear Safety Information by the U.S. Nuclear Regulatory Commission (Nuclear Regulatory Commission) (pdf)
Screening Analysis Report for the Proposed Generic Issue on Flooding of Nuclear Power Plant Sites Following Upstream Dam Failures (Richard H. Perkins, Michelle T. Bensi, Jacob Philip and Selim Sancaktar, Nuclear Regulatory Commission) (pdf)