Gov. Christie Targets New Jersey Newspapers' Life Blood with Bill to Kill Longstanding Public Notice Rule
Thursday, December 15, 2016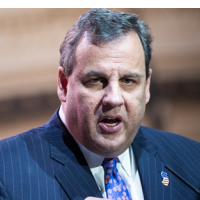 Gov. Chris Christie (photo: Brendan Smialowski, AFP/Getty Images)
By Patrick McGeehan, New York Times
Gov. Chris Christie of New Jersey has made no secret of his disdain for the news media, so when legislation that could hurt the state's newspapers appeared suddenly this week, fingers pointed at the governor's office.
Democratic lawmakers and newspaper industry officials said they suspected that Mr. Christie was pressing for quick passage of a bill that would eliminate the requirement for public notices to be printed. The change could cost the state's already-strapped newspapers millions of dollars in advertising revenue.
"It's a broadside against a free press, nothing more, nothing less," said Assemblyman John Wisniewski, Democrat of Sayreville. "I think it's revenge."
Mr. Wisniewski, who is campaigning to succeed Mr. Christie in 2018, said he had heard from fellow lawmakers in Trenton that the bill came from the governor's office. It is scheduled for hearings in the Legislature on Thursday, indicating that it has the support of President Stephen Sweeney of the Senate and Speaker Vincent Prieto of the Assembly, both Democrats.
Brian Murray, a spokesman for Mr. Christie, declined to comment on how the idea for the bill came up or why the governor supported it. But he provided an email that said "taxpayers and businesses" paid more than $80 million a year to publish legal notices.
The proposed change also has support from the New Jersey State League of Municipalities, though that group did not spur the Legislature to act, said Michael F. Cerra, its assistant executive director. Mr. Cerra said local and county governments could save money by posting notices online instead of in newspapers, though he could not say how much.
"We've always supported it," Mr. Cerra said. "Local officials have continually made this point to their elected representatives." But he added that the league had not called for "this particular bill at this particular time."
When a similar bill was proposed in 2010, the state's Office of Legislative Services said the financial impact was unclear. It estimated that government agencies spent $8 million a year on public notices.
Mr. Cerra said the bill would give governments permission to stop placing notices in newspapers, but he said the shift would probably be gradual, with some towns opting to make it sooner than others. Alluding to newspapers' declining fortunes, he added, "I do think there's an inevitability to this, a natural progression."
He likened the current debate to one from decades ago over changing a requirement that towns publish the full text of proposed ordinances in newspapers. Over the objection of the New Jersey Press Association, the law was changed to allow for publication of just an ordinance's title, which saved towns a lot of money, he said.
The pending legislation set off impassioned responses from New Jersey's biggest newspapers. Both The Star-Ledger of Newark and The Asbury Park Press published editorials denouncing the proposal as vengeful.
"We're really concerned," said Hollis Towns, executive editor of The Press, one of seven New Jersey newspapers owned by Gannett. "The impact will be devastating. It would entail potentially major losses. And it would mean that local politicians would no longer be required to post legal notices in a place where the majority of the public could see them."
Mr. Towns declined to disclose how much of the Gannett papers' revenue comes from selling legal notices. But he said the proposed change could threaten the viability of smaller newspapers that are more dependent on the notices.
Legal notices are a longstanding tradition in America, dating back more than 200 years, when the most efficient way for the government to inform the public of its actions was through newspapers. The ads include notices of public hearings, ordinances, calls for bids, auctions and sheriff's sales.
In his email, Mr. Murray said many of the notices were ads announcing the completion of foreclosures, concluding that nearly $60 million could be saved by not having to announce the end of the 65,170 foreclosures currently pending in New Jersey.