Global Warming Sends Sierra Nevada Snow to Lowest Level in 500 Years, Exacerbating California Water Woes
Wednesday, September 16, 2015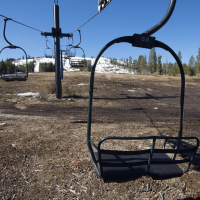 Snowless ski lift at California's Soda Springs Resort (photo: Randy Pench, Sacramento Bee/AP)
Climate experts went into California's Sierra Nevada Mountains earlier this year to see how much of a toll the drought had taken on the state's vital snowpack. What they found was startling.
Their research showed the snow levels in the mountains, which normally hold a significant portion of California's water supply in frozen form, had plummeted to a 500-year low. "We were expecting that 2015 would be extreme, but not like this," senior study author Valerie Trouet, a paleoclimatologist at the University of Arizona, told the Los Angeles Times.
State officials have monitored the snowpack since the 1930s, but Trouet's team examined tree rings to see just how far back the dry times went to gauge the severity of the current drought.
Their findings echoed what other scientists have said about the future effects of climate change on California—that he state's snow levels may not return to what they once were. Warmer temperatures mean precipitation will fall not as snow, but rain, which the state is ill-equipped to store. Normally, California gets a third of its water from the snowpack.
"This is probably the biggest water supply concern our state is facing," Mark Gold, associate vice chancellor for environment and sustainability at UCLA, who was not involved in the new study, told the Times. "On a scale of 1 to 10, it's 11."
-Noel Brinkerhoff
To Learn More:
Sierra Nevada Snowpack Hit a 500-Year Low in 2015 (by Monte Morin, Los Angeles Times)
Study Finds Snowpack in California's Sierra Nevada to Be Lowest in 500 Years (by Nicholas St. Fleur, New York Times)
Multi-Century Evaluation of Sierra Nevada Snowpack (by Soumaya Belmecheri, Flurin Babst, Eugene R. Wahl, David W. Stahle and Valerie Trouet, Nature Climate Change)
Drought Snapshot: "Dismally Meager" Snowpack and First-Ever Dry January in S.F. (by Ken Broder, AllGov California)
Miserable Sierra Snowpack Ties a Record Low Set Way Back in 2012 (by Ken Broder, AllGov California)