George W. Bush-Appointed Judge Halts Implementation of Rule Protecting Streams and Wetlands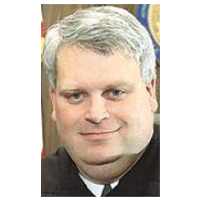 U.S. District Judge Ralph Erickson
The George W. Bush administration's appointment of staunchly pro-business judges appears to be the gift that keeps on giving—to polluters.
U.S. District Judge Ralph Erickson of North Dakota, whom Bush appointed in 2003, issued an injunction Thursday keeping an Environmental Protection Agency (EPA) rule protecting smaller streams and waterways from pollution from going into effect Friday as scheduled. The rules would force landowners to get a permit if they did something that would pollute or destroy the regulated waters connected to larger bodies of water downstream, according to the Associated Press.
In his order, Erickson accused the EPA of overreach. "[T]he states are likely to succeed on their claim because (1) it appears likely that the EPA has violated its Congressional grant of authority in its promulgation of the Rule at issue and (2) it appears likely the EPA failed to comply with [Administrative Procedure Act] requirements when promulgating the Rule," he wrote.
Thirteen states—Alaska, Arizona, Arkansas, Colorado, Idaho, Missouri, Montana, Nebraska, Nevada, New Mexico, North Dakota, South Dakota and Wyoming—filed suit to block the rule and they will be allowed to continue polluting their waterways. The EPA has begun enforcing the rule elsewhere.
"We are studying the ruling and evaluating our options for further action," Natural Resources Defense Council attorney Jon Devine said in a statement emailed to ThinkProgress. "Despite this delay, we remain confident that this case and others attacking the rule as too protective will fail, and the rule will remain in place with necessary protections for the health and well-being of our families and communities, our prosperous fisheries and tourism industries."
The Senate passed a bill in June that would repeal the EPA rule, but President Barack Obama has promised a veto if the bill lands on his desk. Other states, including Texas, Missouri and Louisiana have filed suit, claiming the rule violates the Constitution.
-Steve Straehley
To Learn More:
Judge Rules Obama Administration Water Rule Should Be Halted (by James MacPherson, Associated Press)
Judge Steps In At Last Minute to Block EPA, Heroically Saves America From Clean Water (by Samantha Page, ThinkProgress)