FTC Investigation of Phone "Cramming" by Wireless Providers Leads to Hefty AT&T Settlement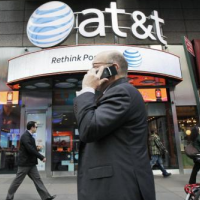 (photo: Mark Lennihan, AP)
Millions of AT&T wireless customers should soon see refunds on their bills after the Federal Trade Commission (FTC) found that the phone provider was illegally billing customers for unwanted horoscopes, ringtones and other third-party services. The billing charges, incurred during the last five years, have amounted to hundreds of millions of dollars.
AT&T will pay $105 million, including $80 million in customer refunds, for the practice of "cramming," in which charges for third-party services are put on the wireless bills of customers often unaware of the extra costs, it was announced Wednesday. The settlement is the largest ever reached by the government with a wireless carrier engaged in cramming.
"What's shocking to me, as I thought about this particular settlement, is that we're talking about reputable companies like AT&T and others. This isn't, you know, Phil's Phone Shack that's doing this," Maryland Attorney General Doug Gansler said in a statement.
The charges were often opaquely listed as "AT&T Monthly Subscriptions" on bills, making it difficult for consumers to know what the charges were for. The wireless company received 1.3 million complaints about the service just in 2011, according to FTC Chairwoman Edith Ramirez. But instead of addressing the issue, AT&T made it more difficult for customers to get refunds and limited them to two months of charges for the bogus services.
AT&T had good reason to keep those services on customer bills; the company kept at least 35% of the payments. The practice had been going on since 2009.
The FTC has been involved with six other cramming cases since last year. The major wireless companies agreed in 2013 to stop putting third-party text-messaging charges on phone bills. This settlement tightens even further the type of third-party billing that may appear on AT&T statements and requires "express, informed consent" from customers before a third-party charge can be put on a bill.
The FTC, Federal Communications Commission (FCC), all 50 states and the District of Columbia were parties to the settlement. The states and D.C. will get $20 million in fees and fines and $5 million will go to the federal government as a fine.
T-Mobile is being investigated by the FTC and FCC for cramming as well. Last July, the FTC asked for a court order to prevent T-Mobile from cramming and to obtain refunds for consumers and disgorgement of the company's ill-gotten gains.
-Steve Straehley
To Learn More:
AT&T to Refund $80 Million In Settlement Of Mobile Cramming Case (by Jim Puzzanghera, Los Angeles Times)
AT&T to Pay $105 Million to Settle Charges It 'Crammed' Phone Bills (by Diane Bartz and Alina Selyukh, Reuters)
FTC Charges T-Mobile with Forcing Bogus Charges on Customers (by Noel Brinkerhoff, AllGov)