First-Ever Federal Bill to Legalize Marijuana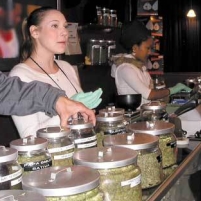 Left-leaning Democrats and the libertarian wing of the Republican Party have come together to propose the first-ever legislation to legalize marijuana at the federal level.
If this change came about, states could choose among banning marijuana entirely, making it medically available, decriminalizing its possession or taxing and regulating it like the government does with alcohol.
Supporters admit that the Frank-Paul bill has little chance of becoming law in the current Congress. But they add the measure represents an important first step towards eventually decriminalizing the drug.
Besides Frank and Paul, other co-sponsors of the bill include Rep. John Conyers (D-Michigan), Rep. Steve Cohen (D-Tennessee), Rep. Jared Polis (D-Colorado), and Rep. Barbara Lee (D-California)
Marijuana has been listed as Schedule I controlled substance since 1970, putting it in the same category as heroin, PCP and LSD.
-Noel Brinkerhoff