Fewer Workers Die on the Job…Except Latinos
Tuesday, September 16, 2014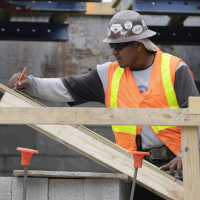 (photo: Lynne Sladky, AP)
Fewer people died on the job last year than the year before, federal labor statistics show, but the percentage of Hispanic workers killed at work actually increased.
First, the good news: The Bureau of Labor Statistics (BLS) reported Thursday that there were 4,405 fatal work injuries in 2013. That's down from the previous year's mark of 4,628 deaths.
But the news was bad for Hispanic workers, whose fatal injury rate last year was 3.8 per 100,000 full-time employees, putting it 0.6 higher than the national average. The gross numbers were more startling: In 2012, 708 Latinos died on the job. By the following year, the total jumped to 797, the highest total since 2008, according to BLS. "Fatal work injuries were lower among all other major racial/ethnic groups," the agency said in a press release.
Deaths also increased among contract workers, according to the report. BLS reported 734 contractors died in 2013, up from 715 the previous year. "It's a growing problem that temporary workers have injuries and fatalities higher than the rest of the population," said Mary Vogel, executive director of the National Council on Occupational Safety and Health, told The Center for Public Integrity (CPI). "That's one reason we have to be really concerned about contract workers: they're continually changing jobs, so they're more apt to be exposed to hazards that they're not trained for. That's a big piece of the problem: they don't get the training."
Rebecca Smith, deputy director of the National Employment Law Project, a worker advocacy and research group, told CPI: "It's no surprise that the number remains high…. In part, that's a function of many Latino workers moving to more dangerous forms of employment, including construction. But also, there's a huge overlay between the high incidents of Latinos who do [contract] work…It's a mix of being in more dangerous work and contract work moving into more dangerous sectors. These statistics point to exactly the challenge for our country as workers move more and more into subcontracted jobs."
The federal government is now demanding more accountability from companies. The same day the BLS numbers were released, the Occupational Safety and Health Administration announced that employers would now have to report all employee injuries involving hospitalization, amputation or the loss of an eye.
-Noel Brinkerhoff, Steve Straehley
To Learn More:
Census of Fatal Occupational Injuries Summary, 2013 (Bureau of Labor Statistics)
Contractor, Hispanic Worker Deaths up in 2013, BLS Says (by Talia Buford, Center for Public Integrity)
U.S. Private-Sector Workplace Fatalities Hit Lowest Level (by Alexandra Berzon, Wall Street Journal)
13 Workers a Day Die on the Job…Not Including Work-Related Diseases (by Matt Bewig, AllGov)