Federal Judge on Track to Order Release of Guantanamo Force-Feeding Videos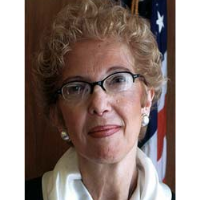 Judge Gladys Kessler (photo: Judge Kessler's office via AP)
A federal judge signed an order (pdf) on October 9 that forces the government to work with news organizations to coordinate the release of videos showing the force-feeding of a Guantánamo inmate.
Syrian Abu Wa'el Dhiab, who was cleared for release from the prison camp in 2009, has intermittently been on a hunger strike protesting his confinement. He petitioned merely that he be allowed to go to the feedings in his wheelchair rather than being forcibly taken from his cell to a restraint chair in another room and that a doctor, rather than prison officials, decide when he must be force fed. Steven Miles from the Center for Bioethics at the University of Minnesota testified earlier that the feedings were done in an abusive way, according to The Washington Post.
"I want Americans to see what is going on at the prison today, so they will understand why we are hunger-striking, and why the prison should be closed," Dhiab wrote, according to Courthouse News Service. "If the American people stand for freedom, they should watch these tapes. If they truly believe in human rights, they need to see these tapes."
U.S. District Court Judge Gladys Kessler has ordered that prison officials' identities be concealed on the videos, then government officials work with the Associated Press, Bloomberg, CBS, Dow Jones, First Look Media, The Guardian, McClatchy, National Public Radio, the New York Times Company, Reuters, USA Today, The Washington Post and other outlets to come up with a plan by October 20 to release the tapes.
Kessler rejected the government's claim that the release of the video would harm national security. "The Court finds—as it will now detail—that most of [the justifications] are unacceptably vague, speculative, lack specificity, or are just plain implausible," she wrote (pdf).
-Steve Straehley
To Learn More:
Gitmo Bay Force-Feeding Videos en Route to Disclosure (by Adam Klasfeld, Courthouse News Service)
Doctor Describes Guantánamo Bay Detainee's Force-Feeding as Abusive (by Matt Zapotosky, Washington Post)
Guantanamo Bay: Force Feedings That Test U.S. Secrecy (by Tara McKelvey, BBC News Magazine)
Abu Wa'el (Jihad) Dhiab v. Barack H. Obama, et al (U.S. District Court for the District of Columbia) (pdf)
Navy Nurse Refuses to Force-Feed Guantánamo Prisoner (by Noel Brinkerhoff, AllGov)
Judge Orders Pentagon to Preserve Videos of Force-Feeding Hunger Strikers at Guantánamo (by Noel Brinkerhoff, AllGov)