Federal Judge Issues Rare Sanctions against Border Patrol for Destroying Video Evidence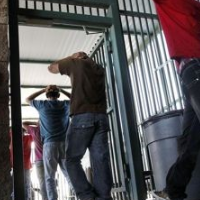 Detainees at the Border Patrol Tucson facility (photo: Ross D. Franklin, AP)
The Border Patrol has been found by a judge to have destroyed videotapes sought in a suit that charges the agency with keeping immigrants in cold, dirty and inhumane cells for extended lengths of time. Now the agency is in trouble with the judge.
The suit was filed in June by a coalition of advocacy organizations representing three immigrants who came forth with the claims against the agency. In August, Judge David C. Bury ordered the Border Patrol to allow inspections of their Tucson Sector facilities and to retain videotapes made at the sites, according to the Associated Press. However, some of the tapes had been destroyed despite the agency being served notice that it was the defendant in a lawsuit.
"The Court concludes the destruction of the video-tape recordings made prior to this Court's August 14, 2015, Order was, at best, negligent and was certainly willful. Defendants provide no explanation why, in response to Plaintiffs' notifications regarding litigation, the Defendants did not undertake the efforts initiated in response to the Court's August 14 Order," Bury wrote.
For its part, the Border Patrol claims its equipment was inadequate to preserve the tapes. Three of its sites had inoperative recording devices or none at all.
Now the judge has sanctioned the agency, ordering it to produce, by mid-October, all its Tucson sector video records since June 10.
"We believe the destroyed video would have shown the Border Patrol failing to follow its policies and subjecting countless individuals, including our clients, to inhumane and unconstitutional conditions. So the court was right to impose sanctions for the agency's deliberate destruction of key evidence," American Civil Liberties Union attorney James Lyall, who is one of the plaintiffs' attorneys, told the AP.
-Steve Straehley
To Learn More:
Judge Sanctions Border Patrol Over Destruction of Evidence (by Astrid Galvan, Associated Press)