Federal Judge Blocks Sweeping Mississippi Anti-LGBT Law Minutes before Taking Effect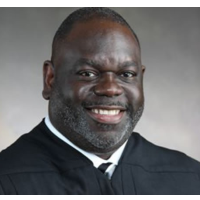 Judge Carlton Reeves
By Dan McCue, Courthouse News Service
(CN) - A federal judge blocked a Mississippi law on religious objections to same-sex marriage just minutes before it was to take effect Friday, ruling it unconstitutionally establishes preferred beliefs and creates unequal treatment for gay people.
The law sought to protect three beliefs: That marriage is only between a man and a woman; that sex should only take place in such a marriage; and that a person's gender is determined at birth and cannot be altered.
It would extend protections to merchants who refuse services to lesbian, gay, bisexual or transgender people.
Earlier this week, Reeves blocked a portion of the law that would have allowed court clerks to cite religious objections to recuse themselves from issuing marriage licenses to same-sex couples.
U.S. District Judge Carlton Reeves wrote in a 60-page opinion (pdf) that the title, text and history of the law -- HB 1523 show it is "the state's attempt to put LGBT citizens back in their place" in the wake of the Supreme Court's June 2015 ruling in Obergefell v. Hodges (pdf) that legalized gay marriage nationwide.
"In physics, every action has its equal and opposite reaction," Reeves wrote. "In politics, every action has its predictable overreaction."
"The next chapter of this back-and-forth has begun," he said.
Mississippi Republican governor, Phil Bryant, said in a statement that he was disappointed by the ruling and looks forward "to an aggressive appeal."
The primary sponsor of a Mississippi law dealing with religious objections to same-sex marriage also said he was disappointed a federal judge blocked it.
House Speaker Philip Gunn, also a Republican, said Friday he and other sponsors thought it was "a good bill that focused on protecting religious beliefs, while also protecting the rights of the LGBT community."
Reeves saw things differently.
"The state has put its thumb on the scale to favor some religious beliefs over others," he wrote. "Showing such favor tells 'non adherents that they are outsiders, not full members of the political community, and ... adherents that they are insiders, favored political members of the political community.'"
Later, he added that the law violates the Constitution's equal protection clause by authorizing "arbitrary discrimination against lesbian, gay, transgender, and unmarried persons."
Governor Bryant signed the bill into law in April. Shortly thereafter, the Family Research Council gave him a religious freedom award.
The office Mississippi Attorney General Jim Hood did not immediately respond to Reeves' ruling.
To Learn More:
Rims Barber, et al, v. Phil Bryant, et al (U.S. District Court for Southern District of Mississippi) (pdf)
North Carolina Anti-LGBT Law Puts $1.4 Billion in Federal College Funding and $800k in Student Loans at Risk (by Emery P. Dalesio, Associated Press)
Big Corporations Face Off with Republican State Lawmakers over Discriminatory LGBT Bills (by Kathleen Foody, Associated Press)