Federal Judge Bars Enforcement of North Dakota Voter ID Law, Citing Harm to Native Americans
Wednesday, August 03, 2016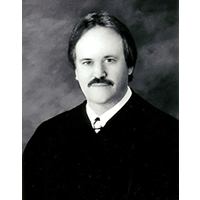 Judge Daniel L. Hovland
By Michael Wines, New York Times
A federal judge on Monday barred North Dakota from enforcing the state's strict voter identification-card law, adding to several recent federal court rulings that such laws may disenfranchise minority voters.
Judge Daniel L. Hovland of the U.S. District Court for North Dakota issued a preliminary injunction (pdf) against the law, which he said had made it difficult and sometimes impossible for some Native Americans on rural reservations to cast ballots.
Hovland's injunction did not strike down the law. But North Dakota's secretary of state, Alvin Jaeger, indicated in an interview that the state would not appeal the decision and that November's election would revert to using less restrictive identification rules that were in force before the 2013 law was enacted.
"After the election we have a legislative session coming up, and we'll see how we can address the issues then," he said.
Like other voter-ID laws that have been challenged, the North Dakota statute was passed by a Republican-led legislature that asserted stronger measures were needed to curb voter fraud.
Democratic legislators said that it was intended solely to suppress voting among traditionally Democratic constituencies.
The pre-2013 law allowed voters to present a broad range of documents or simply to take an oath affirming their identity. The new law, which some critics said was among the most restrictive in the nation, limited acceptable IDs to a valid state driver's license, a nondriver state ID, a state-issued long-term care certificate or a tribal identification card, each of which had to show a voter's current address.
The law also eliminated any fail-safe measures, like swearing an oath, for voters who lacked a card.
In their lawsuit, the plaintiffs argued that many Native Americans did not have addresses and that many tribal ID cards did not require them. The barriers to obtaining a required ID, they said, were high: There are no motor-vehicle license offices on reservations, and a significant share of Native Americans lack either the money to obtain an ID or the proofs of identity, such as a birth certificate or Social Security card, that are necessary to get one.
"The record is replete with concrete evidence of significant burdens imposed on Native American voters attempting to exercise their right to vote," Hovland wrote.
Nor, he stated, was there any evidence that the state needed such a restrictive ID policy.
"To the contrary," he wrote, "the record before the court reveals that the secretary of state acknowledged in 2006 that he was unaware of any voter fraud in North Dakota."
The plaintiffs' lawyer, Thomas A. Dickson of Bismarck, said he believed that the state's elections procedures, which once were nonpartisan, had become ensnarled in the ideological and political conflict that has divided the rest of the nation.
"We want everyone to vote," Dickson said, "and whoever has the most votes, they win. That's the American way. Somehow, we've gotten away from that."
To Learn More:
Richard Brakebill, et al., v. Alvin Jaeger (U.S. District Court for the District of North Dakota) (pdf)