Federal Job Bias Complaints Up, With Retaliation for Complaining About Bias Leading the Way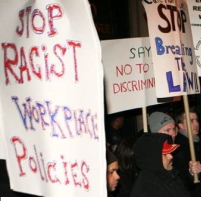 The U.S. government has been hit with a double whammy in a new
report
showing job discrimination complaints—and retaliation for making said complaints—on the rise among federal employees and applicants.
According to the
Equal Employment Opportunity Commission
, job discrimination filings increased by 3.75% last year, with the most common allegation involving retaliatory actions by government managers against employees for complaining about discrimination.
"The federal government should be a model workplace," Dexter Brooks, director of the EEOC's Federal Sector Programs, told the Washington Post. "We are concerned that retaliation is the most common basis of discrimination alleged, and we caution all federal agencies to make sure that reprisals do not become the usual response to complaints of discrimination."
The EEOC also knocked federal agencies for continuing to not clear up a backlog of discrimination cases. From 2009 to 2010, the average total time it took to close cases increased from 344 to 360 days.
Among larger governmental operations, the
U.S. Postal Service
accounted for a significant share of all discrimination complaints and investigations in 2010. Postal workers make up 18.6% of the federal workforce, but USPS accounted for 40.2% of counseling incidents, 31.2% of all complaints filed and 28.9% of completed investigations
-Noel Brinkerhoff