Federal Court Upholds Florida Law Preventing Doctors from Discussing Guns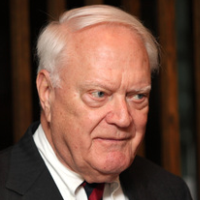 Judge Gerald Tjoflat (photo: Alison Church, AP)
Physicians in Florida cannot ask patients about their guns without facing penalties, according to a state law that's been upheld by a federal appeals court.
The Firearm Owners Privacy Act was adopted by state lawmakers after the American Medical Association advised its members to discuss gun safety issues with patients out of concern for public health. Physicians also commonly ask patients about whether there is a swimming pool in the home and how household chemicals are stored.
Opponents of the law, including the AMA and other medical associations, challenged it in federal court, where they won a ruling before a district judge who agreed the law violated doctors' rights of Free Speech. Those who violate the law could be sanctioned or even lose their medical license.
But on appeal to the Eleventh Circuit, the state got the lower court ruling reversed. The 2-1 decision (pdf) found physicians discussing guns with patients constituted speech that was "professional in nature." They further concluded that the prohibition's impact on the First Amendment was only "incidental."
According to the court, the law doesn't prohibit doctors from asking patients about guns except "when doing so would be irrelevant to patients' medical care."
For the majority, Judge Gerald Tjoflat wrote: "The Act simply informs physicians that inquiring about a private matter irrelevant to medical care isn't part of the practice of good medicine and that, as always, a physician may face discipline for not practicing good medicine."
Judge Charles Wilson dissented, saying "a gag order that prevents doctors from even asking the first question in a conversation about firearms" is unacceptable.
"As a result of the Act, there is no doubt that many doctors in Florida will significantly curtail, if not altogether cease, discussions with patients about firearms and firearm safety," Wilson wrote, adding that doctors must have the discretion to decide when gun conversations are relevant.
-Noel Brinkerhoff, Steve Straehley
To Learn More:
Court Upholds Florida Law That Punishes Doctors For Talking About Guns (by Nicole Flatow, Think Progress)
Court: Florida Can Block Doctors From Asking Patients About Guns (by Dylan Scott, TPM)
Court Ruling Discouraging Doctors From Asking About Guns Sparks Concerns (by Ashby Jones, Wall Street Journal)
The Bloodshed State (by Mark Joseph Stern, Slate)
Bernd Wollschlaeger v. Governor of Florida (Eleventh Circuit Court of Appeals) (pdf)
Federal Judge Halts Florida Law Prohibiting Doctors from Talking about Guns (by Noel Brinkerhoff, AllGov)