Federal Court Questions whether Arizona Law Banning Mexican-American Studies Classes is Racially Motivated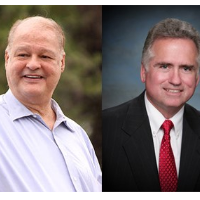 Tom Horne (left) and John Huppenthal
Although a three-judge panel on Tuesday for the most part affirmed a decision allowing the state of Arizona to ban Mexican-American studies classes, it did leave the door open for plaintiffs to prove they'd been discriminated against because of their race or origin.
The Arizona Legislature in 2010 enacted a law that was aimed at one school district and one program—Tucson Unified School District's Mexican-American studies program. It was pushed through at the behest of Arizona's then-Superintendent of Public Instruction, Tom Horne, who had joined state legislators in accusing the studies program of promoting ethnocentrism and racism toward Caucasians. The law prohibited classes that "(1) promote the overthrow of the United States government, (2) promote resentment toward a race or class of people, (3) are designed primarily for pupils of a particular ethnic group, or (4) advocate ethnic solidarity instead of the treatment of pupils as individuals."
Students and parents in Tucson sued, but most of the claims in Arce v. Douglas were dismissed in 2013 by Ninth Circuit Judge A. Wallace Tashima. The plaintiffs appealed and a three-judge panel ruled (pdf) that a lower court must hear claims of discrimination by the plaintiffs. "[I]t is undisputed that the statute's enactment and enforcement has had a disparate impact on Mexican American students," Judge Jed Rakoff wrote. "Not only were sixty percent of all [Tucson Unified School District] students of Mexican or other Hispanic descent, but also ninety percent of students in the [Mexican-American Studies] program were such."
The plaintiffs have now been given the opportunity to present evidence at trial to show that legislators had a discriminatory intent in enacting the 2010 statute.
Horne and his successor, John Huppenthal, appeared to have a vendetta against the program. In statements made as he ran for Arizona attorney general, Horne proudly touted his work to bring the program to an end. "I fought hard to get the legislature to put a—to pass a law so that I can put a stop to [the Raza Studies program]. And as the attorney general, I will give the legal aid to the Department of Education to be sure that we do put a stop to it."
When Huppenthal took over, he had an auditor look at the program. The auditor found "no observable evidence was present to indicate that any classroom…is in direct violation of the law." The audit also found that students in the program had higher graduation rates than similar students who weren't. Huppenthal ignored the auditor's findings and told the Tucson district to drop the program or face significant funding cuts. The district dropped the Mexican-American studies program. Huppenthal was later found to have made blog posts equating welfare recipients with "lazy pigs" and that there should be no Spanish-language radio, TV, billboards or newspapers. He ran for re-election in 2014 but lost in the Republican primary.
"Holding a color palette to a child's skin to determine which instruction they should receive is abhorrent in our society," current Arizona Superintendent of Public Instruction Diane Douglas said in a statement. "If we are to stamp out racism and discrimination, shouldn't we expand ethnic studies statewide and teach all children of all backgrounds an inclusive course of studies? What lesson do we teach if we design classes for our children based on their color or ethnic background?"
-Steve Straehley
To Learn More:
Mexican Studies Claim Revived by Ninth Circuit (by Jamie Ross, Courthouse News Service)
Arizona's Attempt To Stop Latinos From Learning Their History Just Ran Headlong Into A Federal Court (by Ian Millhiser, ThinkProgress)
Arce v. Douglas (United States Court of Appeals for the Ninth Circuit) (pdf)
Ethnic Studies Now Banned in Arizona (by Noel Brinkerhoff and David Wallechinsky, AllGov)