Federal Court May Reconsider Ruling that Forbade Blocking of Arizona's New Anti-Early Voting Law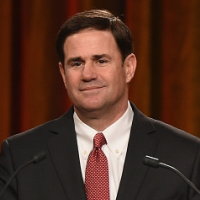 Gov. Doug Ducey (photo: Getty Images)
By Bob Christie, Associated Press
PHOENIX (AP) — A federal appeals court may reconsider a ruling where a panel of its judges decided not to block a new Arizona law making it a felony to collect early ballots from voters.
A judge on the 9th U.S. Circuit Court of Appeals on Saturday requested a full court vote on whether to convene a so-called 'en banc' review of the opinion leaving the new law in place.
Usually such requests come from the losing party in a lawsuit, but a judge on the panel may also request a vote. En banc reviews in the 9th Circuit normally involve a panel of 11 appeals court judges.
A split three-judge panel late Friday refused to block the law, meaning get-out-the vote groups won't be able to collect ballots from voters and deliver them to the polls.
The state and national Democratic parties and some voters sued to block the new law, saying it violated the Constitution and the Voting Rights Act because it hurt minorities' ability to cast ballots.
The legislation, House Bill 2023 (pdf), was enacted by the Republican-dominated Arizona Legislature early this year and signed by GOP Gov. Doug Ducey. He called it a common-sense effort to protect the integrity of elections and eliminate voter fraud.
Both parties have used ballot collection to boost turnout during elections by going door-to-door and asking voters if they have completed their mail-in ballots. Voters who have not are urged to do so, and the volunteers offer to take the ballots to election offices.
The Arizona Republican Party joined the state in defending the law.
Appeals court Justice Sandra Segal Ikuta and Justice Carlos Bea rejected the Democrats' effort. Ikuta wrote in her opinion that a lower court judge didn't make a clear error when he concluded that limiting one of several ways voters could return early ballots didn't significantly increase the burdens of voting.
"Further, any burden imposed by H.B. 2023 is mitigated by the availability of alternative means of voting" she wrote.
Chief Appeals Court Judge Sidney Thomas dissented, writing that "Arizona has criminalized one of the most popular and effective methods by which minority voters cast their ballots," and that violated the Constitution and the Voting Rights Act.
Saturday's order didn't identify the judge who requested the vote of the full 9th Circuit but it was presumably Thomas. It gives the parties to the case until 5 p.m. Monday to file supplemental legal briefs.
The same three judges are considering a request by Democrats to order that ballots cast by voters in the wrong precinct be counted. And a U.S. District Court judge is considering another effort by Democrats that challenges Secretary of State Michele Reagan's decision not to extend voter registration by a day even though it fell on Columbus Day.
To Learn More:
House Bill 2023 (House of Representatives, State of Arizona) (pdf)
Arizona County's Plan to Destroy Primary Electronic Voting Records Challenged in Court (by Lourdes Medrano, Courthouse News Service)
Arizona Accused of Voter Suppression in Presidential Primary (by Bob Christie and Ryan Van Velzer, Associated Press)
Arizona Voter ID Law Overturned by the U.S. Supreme Court (by Noel Brinkerhoff, AllGov)