FDA Warns of Inaccurate Medical Tests that Put Thousands in Danger
Wednesday, November 25, 2015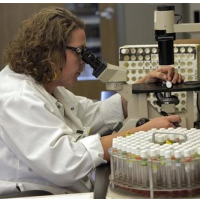 (photo: Matt York, AP)
Federal regulators say too many laboratory-developed tests that diagnose diseases are unreliable, costly and possibly life threatening.
The Food and Drug Administration (FDA) says in a new report that inaccurate medical tests result in unnecessary surgeries and patients being put on unneeded medication. In other cases faulty testing means life-threatening diseases are going undiagnosed. "Patients have been demonstrably harmed or may have been harmed by tests that did not meet FDA requirements," the report produced for Congress states.
The FDA found one blood test used to help detect ovarian cancer wasn't effective, and yet medical professionals continued to rely on it, resulting in women being subjected to "unnecessary surgery to remove healthy ovaries." Other women have had abortions after being told possibly inaccurate tests showed abnormalities in the fetus.
"The problems are more prevalent than people want to recognize," Dr. Jeffrey E. Shuren, director of the FDA's Center for Devices and Radiological Health, told The New York Times. "Doctors and patients rely on these tests to make well-informed health care decisions. If they get inaccurate results, they can make the wrong decisions, and people get hurt as a result."
The FDA is currently unable to regulate tests developed and used within one laboratory, as opposed to commercially available tests that are used throughout the industry. Democrats in Congress would like to begin regulating laboratory-designed tests as well, but Republicans are split, with some siding with patient safety and others, such as Representative Michael C. Burgess of Texas, who is a physician, claiming the proposals "could stifle medical innovation and open the door to federal regulation of the practice of medicine."
-Noel Brinkerhoff, Steve Straehley
To Learn More:
FDA Targets Inaccurate Medical Tests, Citing Dangers and Costs (by Robert Pear, New York Times)
How to Find Trustworthy Medical Information on the Internet (by Noel Brinkerhoff and David Wallechinsky, AllGov)
Pentagon Ignores Congressional Order on Brain Tests for Returning Troops (by Noel Brinkerhoff, AllGov)