FDA Inches Closer to Defining "Natural Foods"
Monday, November 16, 2015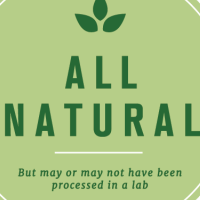 If food labels were honest (graphic: Safer America)
What's a "natural" food? A fresh apple picked off a tree, sure. What about apple juice? What if it has sugar added? What if the juice has a food-based dye added? What if the tree had been treated with pesticides?
The Food and Drug Administration (FDA) has been loath for years to define the term "natural food." Now, at the behest of consumers, courts and food processors, the agency may soon lay down some guidelines for use of the label that is, according to media reports, slapped on $40 billion worth of food products in the U.S. alone.
The FDA announced last week that it's seeking comment on what the definition of natural foods should be. The agency cited Citizen Petitions in its announcement, as well as requests from courts for guidelines they can use in questions about whether genetically engineered foods or those containing high-fructose corn syrup may be considered natural.
According to the FDA, its current policy is that the agency "has considered the term 'natural' to mean that nothing artificial or synthetic (including all color additives regardless of source) has been included in, or has been added to, a food that would not normally be expected to be in that food."
However, it's not certain that the commenting will lead to a firm definition. "The FDA will not make a decision on whether the agency will engage in rulemaking to establish a formal definition or not until after it has thoroughly reviewed all public comments and information submitted," a spokesperson told Quartz.
-Steve Straehley
To Learn More:
After More than 30 Years, the U.S. Government May Finally Define "Natural" Food (by Deena Shanker, Quartz)
The Government May Finally Define 'Natural' Food (by Laura Lorenzetti, Fortune)
FDA Requests Comments on Use of the Term "Natural" on Food Labeling (U.S. Food and Drug Administration)
Big Food Companies Push to Label Genetically Modified Products as "Natural" (by Noel Brinkerhoff, AllGov)
Federal Judge Tells FDA to Decide if Genetically Modified Foods are "Natural" (by Noel Brinkerhoff, AllGov)