FCC Issues First TV Station Nudity Fine in 7 Years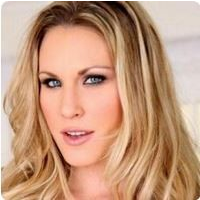 Tiffany Rose (photo: Twitter)
The Federal Communications Commission (FCC) for the first time in seven years has penalized a television station for airing content containing nudity.
The fine of $325,000 against WDBJ in Roanoke, Virginia, represents the first such action by the FCC since 2008. WDBJ got into trouble for showing a brief pornographic video clip on July 12, 2012, during a story on former porn star Tiffany Rose volunteering her time for a local rescue squad. The segment included three seconds from the woman's website that featured an explicit video clip in a box on the side of the webpage, according to National Journal.
The fine is the maximum amount that can be levied by the FCC, which during the Obama administration had previously avoided cases of indecent material being shown on TV.
The fine would be the largest penalty levied by the FCC for a single indecent broadcast at a station, according to The Roanoke Times. The FCC increased its fines ten-fold after the infamous Janet Jackson "wardrobe malfunction" during the 2004 Super Bowl.
Jeffrey Marks, WDBJ's president, said in a statement: "We are surprised and disappointed that the FCC has decided to propose to fine WDBJ7 for a fleeting image on the very edge of some television screens during a news broadcast," Marks wrote. "The story had gone through a review before it aired. Inclusion of the image was purely unintentional.
The picture in question was small and outside the viewing area of the video-editing screen."
Melissa Henson, head of communications and public education for the Parents Television Council, said the fine sends a "signal" that federal regulators "are still looking at enforcing the broadcast decency laws."
"Hopefully, the broadcast networks will think twice before continuing this agenda of pushing the content envelope," she told National Journal.
-Noel Brinkerhoff
To Learn More:
For First Time in 7 Years, FCC Fines TV Station for Nudity (by Brendan Sasso, National Journal)
FCC Hits WDBJ with Proposed $325,000 Indecency Fine (by Ralph Berrier Jr., Roanoke.com)
In the Matter of WDBJ Television, Inc (Federal Communications Commission) (pdf)
Supreme Court to Hear Challenge to FCC's Right to Regulate "Indecency" on TV (by Noel Brinkerhoff and David Wallechinsky, AllGov)
Appeals Court Rules against FCC in Janet Jackson Super Bowl Breast Flash (by Noel Brinkerhoff and David Wallechinsky, AllGov)