Facebook Users in South Carolina Prisons Sent to Solitary Confinement
Monday, February 16, 2015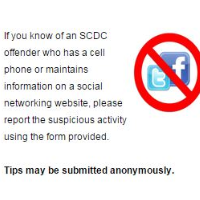 In a modern-day version of Cool Hand Luke, South Carolina prisoners are being put in solitary for updating their Facebook status.
The state in 2012 made (pdf) "Creating and/or Assisting With a Social Networking Site" a Level 1 offense for prisoners. That includes an inmate asking a friend or relative to update a site on his or her behalf.
Some of the punishments are astounding. Tyheem Henry received 13,680 days—37.5 years—in disciplinary detention and lost 27,360 days (74 years) worth of telephone, visitation, and canteen privileges, and 69 days of "good time" for making 38 Facebook posts, according to Dave Maass of the Electronic Frontier Foundation (EFF). Walter L. Brown received 12,600 days (34.5 years) in disciplinary detention and lost 25,200 days (69 years) in telephone, visitation, and canteen privileges, and 875 days (2.4 years) of good time. Hundreds of other inmates have received less harsh sentences.
The punishments are so long that the state has run out of room in its solitary confinement areas to hold all the offenders. Henry and Brown won't even serve all their time in solitary since their sentences will be up before then. Henry is serving a 15-year sentence for randomly brutally assaulting a stranger on the street. Brown is serving 15 years for a non-violent burglary.
The South Carolina Department of Corrections (SCDC) has set up an elaborate system to ensnare inmates who break the social media ban. The department has set up its own website with pages where snitches can report social media use by inmates. SCDC has even set up fake Facebook accounts to try to trap inmates.
And in their efforts to ensure inmates are kept off social media, SCDC has enlisted the help of Facebook itself. Although Facebook claims it only deletes accounts of those who violate its policies, EFF found that the company deleted inmates' accounts at the request of SCDC, even though the account holder had complied with Facebook policies. The department also pays contractors to help enforce their policy; a $12,500 payment was found by EFF.
-Steve Straehley
To Learn More:
Hundreds of South Carolina Inmates Sent to Solitary Confinement Over Facebook (by Dave Maass, Electronic Frontier Foundation)